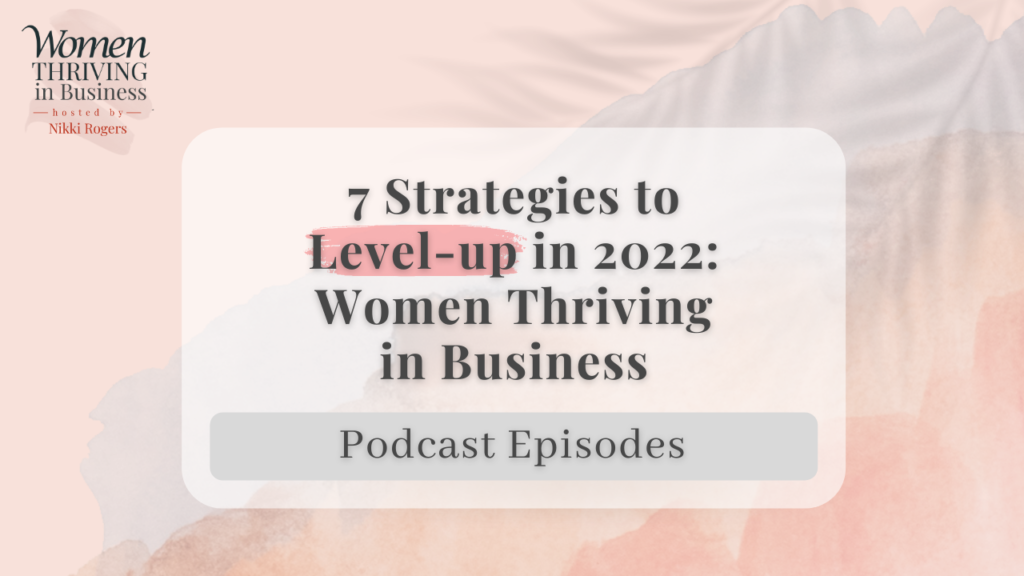 As we kickstart 2022 and continue to celebrate one year of WTiB,, I've curated a list of episodes that can help you fulfill those new year's goals and resolutions and take you one step closer to thriving in business!
These selected episodes highlight the importance of strategy and planning in order to reach your next milestone l. No matter the time of year, it's always the right time to review your strategy, adjust your plans, and write a new chapter in your business and in your life.
My inspiring guests share great insights and practical advice that can guide both aspiring entrepreneurs and experienced business owners. I learn something new from every guest and I am excited to recap a few of my favorites for you.  Read on and check out seven (7) episodes that provide strategies for leveling-up in 2022!
1. Episode 409: Set the Agenda: Entrepreneurial Success through Government Networking | Cori Henderson
Have you ever considered the importance of building a network with your local government agencies and elected officials? Thrivers – this is an advanced-level business strategy!
Cori Henderson — host of the Policy Influencer Playbook podcast and a government relations expert — makes a compelling argument as to why government networking may be the key to your business' success. She talks about the importance of these local government relationships as a stepping stone to not only build your business but to contribute to your community, as well.
The advantage goes to the person who's willing to pick up the phone, make the call, and make an introduction. — Cori Henderson
2. Episode 406: Breaking Through: Wealth Management for All of Us | Kaitlyn Carlson
Financial independence may seem like an impossible dream but for Kaitlyn Carlson — founder and CEO of Theory Planning Partners — with the right mentality, self-awareness, and plan, you can lay the groundwork for financial independence while growing your business!
As a woman entrepreneur in a male-dominated field, she talks about her inspiring and insightful journey of helping fellow women entrepreneurs with wealth management designed for all.
Building wealth is about the process. It won't be solved overnight. — Kaitlyn Carlson
3. Episode 402: Great Writing is an Entrepreneur's Superpower | Colonel Carla Bass
Writing skills are useful in any field, but even more so as an entrepreneur! As entrepreneurs, we can boost the value of our businesses by honing our writing abilities, in order to communicate thoughts and ideas more effectively.
Retired USAF Colonel Carla Bass — founder of Write to Influence — talks about why strong writing abilities are vital for entrepreneurs, as well as how this talent is powerful and considered the "lifeblood" of businesses.
Powerful writing changes lives. — Carla Bass
4. Episode 301: Why Public Relations Matters in Business | Gigi Peterkin
Staying competitive in the industry requires an efficient marketing approach. It's critical to work on building trust between your brand and your consumers to improve visibility and increase revenue.
Want to learn how PR can help grow your business? Gigi Peterkin, owner and founder of Amplify PR, discusses how public relations, marketing, and sales differ and complement one another, as well as why PR is so critical to your company's success.
Marketing to me is the conversation, sales is the invitation, and PR is the reputation. — Gigi Peterkin
5. Episode 201: Architect Your Future | Raechelle Rae Johnson
The first step in building your future as an entrepreneur is facing your fears. To start a business, you have to have the courage to confront the possibility of failure and rejection and pursue your dreams of success.
Raechelle Johnson — founder of Kreative Ink LLC — is most known for her nickname, the Solution Architect talks about the importance of mastering the strategies and learning from her experience, how she overcame her fears of marketing and selling herself, the significance of planning, and three useful tips to help your business thrive!
Learn as much as you possibly can about your business and it should always be something that you are very passionate about. — Raechelle Johnson
6. Episode 108: Community, Leadership and Longevity: Planning for Success | Tara Melvin
Growing up in a family of entrepreneurs is a terrific foundation for company ownership, and passion, drive, and excellence will lead to success in your chosen profession.
With over 16 years of experience, Tara Melvin — creative engine and leader of Perfect Planning Events and Signature Concepts, L.L.C. — talks about how she expanded her network in the midst of restrictions on in-person events, managed to stay afloat financially while continuing to work in the midst of the pandemic, and utilized social media to find her ideal clients.
Although I built this for other people, it's rewarding to me too because, especially in the mentor program, I learned things from them and then it's just rewarding knowing that they are inspiring me. — Tara Melvin
7. Episode 102: Cultivating a Workplace Culture that Works | Jackie Robinson
If you're a business leader, a diversity, equity, and inclusion practitioner, an employee looking for a shift in company culture, or just passionate about women's development in the workplace, then this is a terrific topic for you!
Jackie Robinson, a well-respected success strategist, discusses the keys to developing a culture in which women and allies work together to support and nurture women's success.
There's always room for one more even in a crowded marketplace. — Jackie Robinson
Are You a Thriver? 
Start the year off right by checking out these episodes and more! Women Thriving in Business podcast is designed to bring you the stories, challenges, and triumphs of women entrepreneurs who are blazing trails and succeeding on their own terms.
Thank you for listening to the show – I appreciate each and every listener and all my year 1 guests!  All four seasons of WTiB are available here.  Subscribe via your favorite podcast player so you never miss an episode.  Stay tuned for season 5 debut in February and join me, your host, Nikki Rogers, as we continue to provide a platform for fellow women entrepreneurs to share their knowledge and experience with us all!
Cheers to a great 2022 and another year of WTiB!❤️