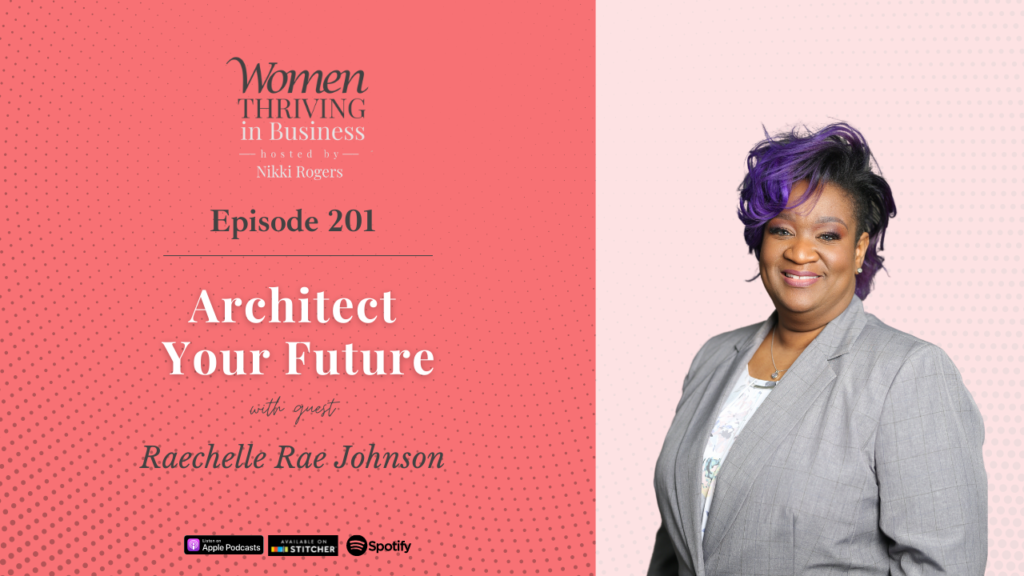 "Every 'overnight' success has been years in the making." 
In order to start a business, you need to have the courage to  face the fear of failure and possible rejection because it's not always rainbows and butterflies in business. Facing your fear will be the first step toward becoming an entrepreneur.
In this episode, I interview Raechelle "Rae" Johnson, Founder of Kreative Ink LLC.  Known as the Solution Architect, she lends her platform to share her expertise in coaching and training future entrepreneurs.
Learn more about her business to understand the difference between scaling and growing your business and how to  pivot your business with less stress. Master the strategies and learn from her experiences,  how she overcame the challenge of marketing and selling herself , the importance of planning, and three valuable tips to thrive in your business.
Thriving Points:
Fear can hinder us from actually jumping out and starting a business. -Raechelle Johnson
The best thing to do is to take into consideration what is comfortable fiscally for your lifestyle, as well as your time, and then map it out accordingly for how to wean yourself off of a paycheck. – Raechelle Johnson
False humility is also where you refuse to say how good you are at something you are good at. – Raechelle Johnson
A lot of women don't get what they deserve in the marketplace because we're not as aggressive as we should be for the fear of being painted incorrectly. – Raechelle Johnson
Show up strong and know who you are, know what you provide, and show up as that person every day – Raechelle Johnson
Have a plan even if you're wanting to transition. Start thinking about it sooner rather than later. – Raechelle Johnson
Understand why you're doing your business. – Raechelle Johnson
Learn as much as you possibly can about your business and it should always be something that you are very passionate about. – Raechelle Johnson
Find a support system, and it is not always family and friends. – Raechelle Johnson
Don't be scared and don't let anybody who's afraid for you stop you. – Raechelle Johnson
Find those persons that will add value to what you're doing and seek those persons to start being your support and your foundation because you're going to need them to help build you and to grow. – Raechelle Johnson
Get to Know the Guest:
       Raechelle "Rae" Johnson is an Evolution Coach, Media Personality, International Speaker, and Author who specializes in Innovation Strategy. With her credentials and expertise, she provides her clients with foresight, growth, and innovation for real-world solutions. Also, know as the Solution Architect, Raechelle navigates the complexity of challenges with opportunities while managing change. Lending her platform and expertise, she extends the reach of her client's full potential, paving the way to success on their terms.
Whenever not speaking or coaching she can be found prepping for Kreative Insights (currently streaming on OnStage Plus) her Digital Program powered by the Shawn Fair Channel; engaging with her networks on social media; or training and coaching speakers in her role as the VP of Global Sales and Marketing for the Fair Leadership Experience Tours.
Connect with Raechelle:
Click HERE for the SHOW TRANSCRIPT.