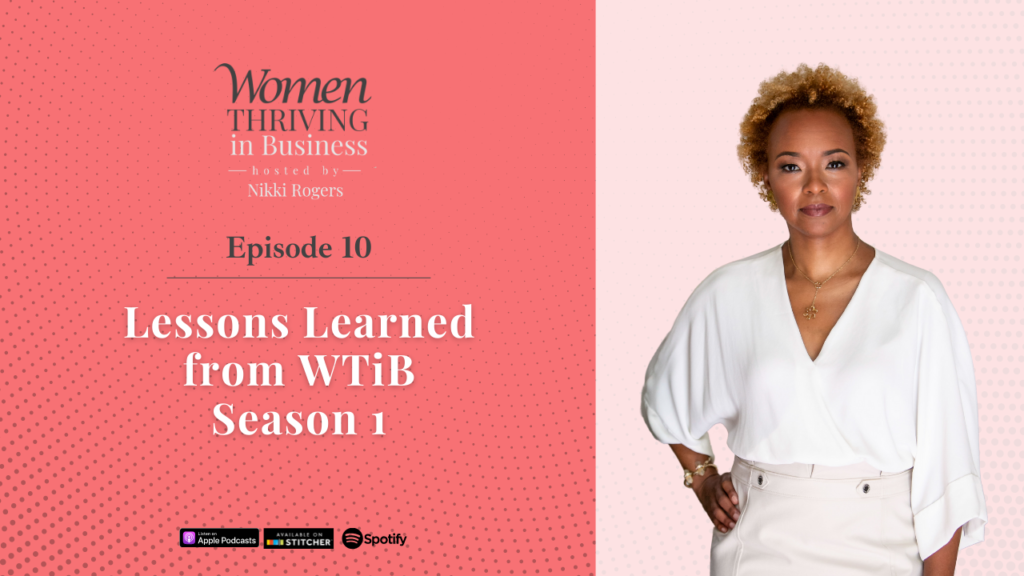 Since launching in January 2021, the Women Thriving in Business Podcast has made an impact by highlighting successful women entrepreneurs and sharing their accomplishments, challenges, and grand plans with our listeners. I've learned so much from the candid conversations that allowed guests to share their entrepreneurial stories.
In this episode, I reveal the five big lessons I've learned during the first season of WTiB and how this podcast has helped me learn more about myself through the planning and production process. As a result, I feel ready and capable of taking on even bigger entrepreneurial challenges!
Listen in and join us today in our virtual celebration of a milestone and stay tuned for Season 2 debut in late March.
Thriving Points:
It is important to be clear about your purpose and your vision in order to set the tone and set the stage for whatever it is that you're creating.
Make a plan and then execute because done is always going to be better than perfect.
Sometimes getting help is going to help you move faster, quicker, and more efficiently.
Saying yes to one thing opens the doors of opportunity.
About the Show:
Women Thriving in Business features candid unscripted conversations with entrepreneurs, business experts, authors, and academics aimed at contributing to business success. This weekly show is about discussions and provides interviews with business leaders who have built, grown, and are thriving in business to develop the mindset, strategies, and connections necessary to thrive in business. Nikki Rogers, the host of the show, also discusses achievements, mistakes, lessons learned, and advice for aspiring business owners to develop the mindset, strategies, and connections necessary to thrive in business. Whether you are just starting out or you have been in business for decades, WTiB offers inspiration, strategies, and resources to help you THRIVE in business.
Connect with Nikki: