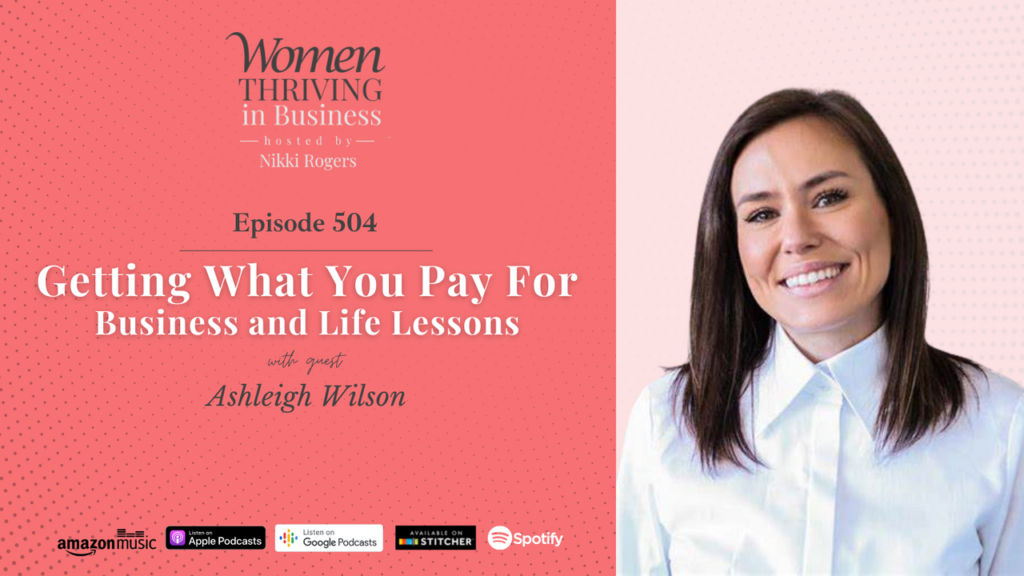 In any business agreement, it is vital that you have a legal document that states the system of rules or procedures that will happen within a deal. But many entrepreneurs, companies, or businesses don't really understand their contracts, and because of this, they are taken advantage of what they pay vs what services they receive.
A strong contract can provide you and your business the security that you need to reduce risks and understand your rights within the agreement. By recognizing these small details you'll be able to avoid misunderstandings with your supplier or contractors and of course, save some cash!
The Thriver joining us in this week's episode is Ashleigh Wilson, founder of AuditMate, the first-ever elevator and escalator auditing and managing firm. She shares with us what AuditMate is all about, its goals, mission, and purpose. Ashleigh brings us along her journey of how she started this business, some of the steps she took to reclaim herself and trust her inner voice, and the challenges she faced in building a company with empathy, and the heart to serve people.
AuditMate empowers building owners and managers to better understand and get the most out of their contracts and get everything that they paid for when it comes to elevator maintenance and compliance. From safety testing, certifications, to inspections, AuditMate ensures your safety both financially and physically. Learn more by visiting www.auditmate.com.
Thriving Points:
Elevator companies didn't have to be transparent in how much maintenance they were doing because nobody ever knew to ask. – Ashleigh Wilson
We don't use empathy because we can profit off of it. Empathy is there because it is the right thing to do, it is our core, and it is our values. It is something that is embedded in our life and a part of who we are. – Ashleigh Wilson
The sooner we recognize that about ourselves and recognize that uniqueness is what makes us great. – Nikki Rogers
My vision is you don't have to be an elevator expert.  We can connect the right people and build software around it and put the best minds together in the room. – Ashleigh Wilson
Other Resources Mentioned:
Get to Know the Guest:
Ashleigh Wilson is the founder of Audit Mate, the first-ever elevator and escalator auditing and managing firm. She was raised in a family of elevator mechanics, inspectors, and business managers and entered the industry in her early 20's. Ashleigh was passionate about leading global change in an industry rich with history and innovation but didn't just see herself as a business manager, but rather, as an advocate for customers. She became part of the Executive Development Program being mentored by the CEO of the 2nd largest global elevator company and made it her mission to put people first then the profits would follow. Ashleigh is a CEO who gets results without sacrificing human dignity.
Connect with Ashleigh:
About the Show:
     Women Thriving in Business features candid unscripted conversations with entrepreneurs, business experts, authors, and academics aimed at contributing to business success. This weekly show provides interviews with business leaders who have built, grown, and are thriving in business. Nikki A. Rogers, host of the show, also discusses achievements, lessons learned, and advice for aspiring business owners to develop the mindset, strategies, and connections necessary to thrive in business. Whether you are just starting or you have been in business for decades, WTiB offers inspiration, strategies, and resources to help you THRIVE in business.
Connect with Nikki: