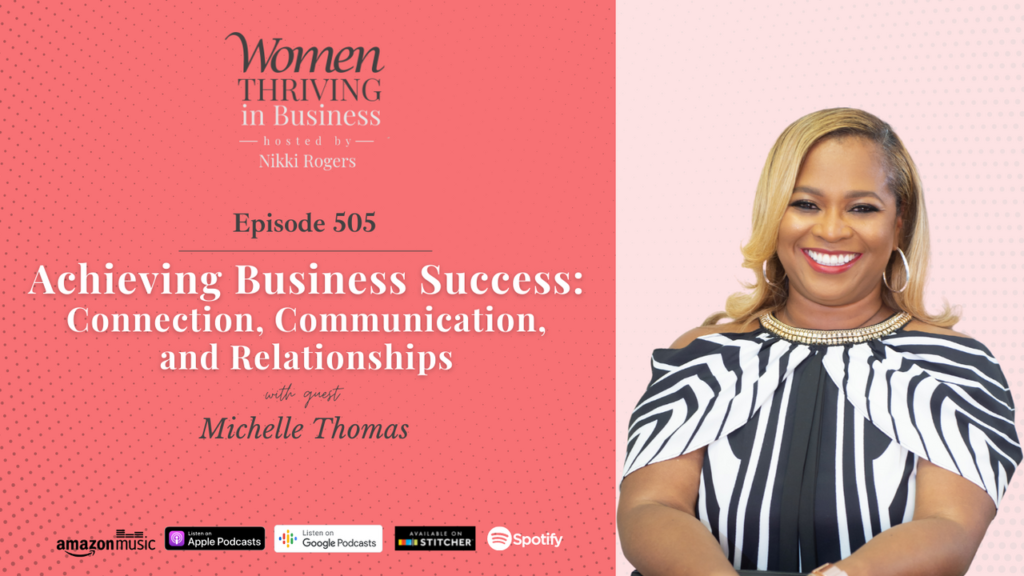 Most often in a business setting, the relationships we have with our partner, children, family, or even with ourselves impact the way we work. Good communication is a key aspect of all relationships and is a necessary part to achieve business success.
This week, we've invited Michelle Thomas,  Your Relationship Surgeon, author, and founder of The Exceptional Black Woman Network, to talk about why communication is a vital part of any relationship, the importance of a quarterly S.W.O.T. Analysis, and how you can precisely pinpoint what is keeping you from you and your business from achieving the success that you know you deserve.
Michelle shares a family tragedy that changed the way she viewed her business, the story behind her book, "The Eight Qualities of the Exceptional Black Woman in Business and Entrepreneurship", and the lessons she has learned in her business journey.
Join us and don't miss out on the valuable tips she shares that are applicable whether starting a  business, or trying to manage professional or personal conflicts. . You can build an empire of your own by shifting your mindset, aligning your strengths to your industry, and acting with confidence to create your own version of success!
Thriving Points:
Sometimes people tend to relate the word relationship only with personal,  but you have a relationship in all aspects of your personal life and your professional life. – Michelle Thomas
We try to make sure that all of our strengths, our assets, and each member of the company find industries that maximize that strength. – Michelle Thomas
My success may not come from following a template of someone else, but I had to find a piece of myself and input it in there to find newfound success.  – Michelle Thomas
There are times that couples in the business allow that insecurity that's happening within their relationships to affect the profitability. – Michelle Thomas
If you want to make a change in how that platform operates, you can't go in and kick the door down. You have to go in and have an impact and then begin to show people. how it can operate differently. – Michelle Thomas
Other Resources Mentioned:
Get to Know the Guest:
Michelle S. Thomas, Your Relationship Surgeon is a 4X Internationally Best-Selling Author, Certified Life/ Relationship/Business Coach, Motivational speaker, and Multiple business owner. She believes that everyone has the power to "touch" their dreams. Even before she turned her purpose into her profession, she always recognized that real people needed to hear real stories to conquer what really mattered to them.
Michelle's life story has at times been one of the complicated paths, but she has never shied away from telling her truth. Through her transparency, her audiences receive tools that can alleviate their pain, inspire their strength, and resurrect their inner drive. Your Relationship Surgeon offers relatable content through her books, private coaching, workshops, and keynote speeches designed to elevate your relationship with yourself, your family, and your business.
Connect with Michelle:
About the Show:
     Women Thriving in Business features candid unscripted conversations with entrepreneurs, business experts, authors, and academics aimed at contributing to business success. This weekly show provides interviews with business leaders who have built, grown, and are thriving in business. Nikki A. Rogers, host of the show, also discusses achievements, lessons learned, and advice for aspiring business owners to develop the mindset, strategies, and connections necessary to thrive in business. Whether you are just starting or you have been in business for decades, WTiB offers inspiration, strategies, and resources to help you THRIVE in business.
Connect with Nikki: