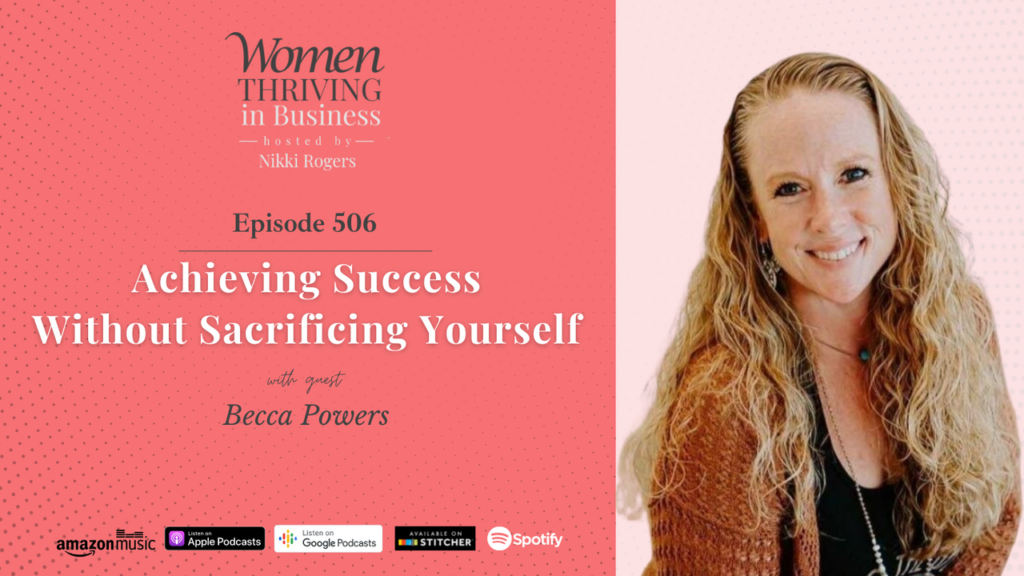 You shouldn't have to choose between career, happiness, and good health  – all three should go hand-in-hand. It takes a lot of courage to pull yourself out of a situation that isn't serving you, but the moment you prioritize your well-being above all else, you will achieve true success.
In this episode, I am joined by Becca Powers, a motivational speaker, executive life coach, and author of the best-selling book Harness Your Inner CEO. Listen to our conversation, where she discusses her journey of valuing her self-worth and well-being while pursuing her passions. She shares her inspiring story of when she realized she was her own EO, as well as what motivated her to pursue entrepreneurship while balancing corporate life.
We also touch on the following: 
Taking a step back and reconsidering your career path and your passions
Asking "what if" questions that support your well-being and decision-making
Evolving while celebrating the achievements of the person you used to be
Kundalini yoga – the yoga of self-awareness
The inspiration behind the book Harness Your Inner CEO
Tips on how you can harness your inner CEO
Thriving Points:
What I found was that I ended up finding an alteration in my career path that gave me more freedom and flexibility for my schedule; that I was able to fit things in without one sacrificing the other. They actually complement each other really well. So I was able to write the book, coach clients, build a speaking career, and it actually even accents or helps my current corporate career. – Becca Powers
What was most important to me was giving space to let this part of me express itself without sacrificing myself in the process. – Becca Powers
Many times in life, we are faced with a decision and we can choose either option, but the main question is "Which one serves me the most?" – Becca Powers
I started reframing and saying no so that I could say yes to myself. When you finally admit that things are falling apart and that you don't have the answers, that's when the answers can come in. – Becca Powers
When you let things go, you actually recognize that you have power. – Nikki Rogers
Nothing requires self-sacrifice, and that would be the rising into your power pieces –  to be willing to consider yourself at least as much as you consider others. – Becca Powers
Prioritize yourself above all else and then everything else will fall in line. – Nikki Rogers
Resistance is one of the things that stop us from fulfilling our dreams. – Becca Powers
Other Resources Mentioned:
Get to Know the Guest:
Becca Powers is an award-winning hi-tech sales executive, motivational speaker, best-selling author, life|career transformation coach, and a kundalini yoga teacher – not to mention a mom and a wife! With a huge, vivacious energy, a strong yet warm confidence, Becca embraces that she is highly dynamic and encourages others to do the same. With over 20 years of corporate experience, her career boasts Fortune 500 giants such as Cisco, Dell, and Office Depot. Her career is filled with trials and triumphs which she boldly shares to inspire employers and employees to create environments where the individual can thrive both personally and professionally. Her philosophy of "People Before Profits" is part of her core beliefs which she integrates into her work. Becca Powers is an advocate for women in the workplace, stating that there is still a lot of work to be down for women to own their worth at work.
Connect with Becca:
About the Show:
     Women Thriving in Business features candid unscripted conversations with entrepreneurs, business experts, authors, and academics aimed at contributing to business success. This weekly show provides interviews with business leaders who have built, grown, and are thriving in business. Nikki A. Rogers, host of the show, also discusses achievements, lessons learned, and advice for aspiring business owners to develop the mindset, strategies, and connections necessary to thrive in business. Whether you are just starting or you have been in business for decades, WTiB offers inspiration, strategies, and resources to help you THRIVE in business.
Connect with Nikki: