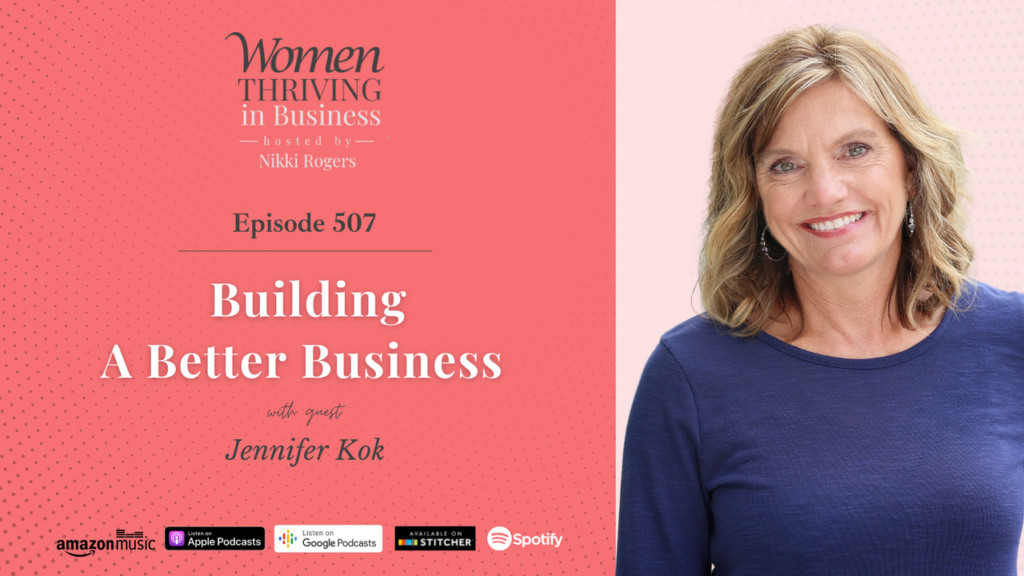 The past two years have had a significant impact on the business landscape.
As the world recovers, businesses are likewise adjusting to the 'new normal.' Because of the pandemic, you may be hesitant to restart your business, but you can take this opportunity to start anew with a stronger, strategy and plan that will help your business thrive under any circumstance.
In this episode, I am joined by Jennifer Kok, founder of Next Wave Business Coaching. Jennifer shares about helping small businesses establish visionary solutions and develop a clear roadmap to gain consumers, increase revenue, and profits so that their businesses can thrive for years to come.
Jennifer shares her entrepreneurial journey, why she decided to start a coaching/consulting firm after selling her successful business, and how her experiences have shaped her into the mother, wife, entrepreneur, and woman she is today.
It's painful to see your business, where you put all of your efforts and ideas, struggle. But the most difficult challenges and experiences in your life will help you grow and become stronger, and one day you'll look back and say, This is the best thing that ever happened to me.
We also touch on the following: 
The  business owner mindset that helps you build a great team Small ways to foster your desired  business culture
Creating a saleable business
Thriving Points:
I can honestly say that that decision and having to pivot and being forced into getting uncomfortable and being forced into doing something a little different saved my business and actually was the best thing that ever happened. – Jennifer Kok
So when I was watching what was going on in this pandemic, I thought, "I have a skill set that can help these people,", and 10 years from now, I want them to look back like I did, and go "Wow, the pandemic was the best thing that ever happened to my business." – Jennifer Kok
Small changes are not going to happen overnight, but it just needs to be consistent. –  Jennifer Kok
If you focus on the fundamental part of getting better every day,  then growth will follow. – Nikki Rogers
Other Resources Mentioned:
Get to Know the Guest:
Jennifer Kok spent 22 years running her own successful brick-and-mortar business, event business, and online business before selling at a profit in 2018. Today, she uses her extensive expertise to help brick-and-mortar business owners learn how to create more clients and customers, increase their revenue, and improve profits for long-term success. She is passionate about helping business owners create a strong and stable brick-and-mortar business that can handle any unplanned circumstances such as  (economic downturns, employee shortages, global pandemic, or even rapid growth) and provide profitable opportunities for years to come. In her own business, she mastered the art of developing products, creating and improving systems, growing a team, becoming a pillar in her community, maximizing opportunities for profits, and pivoting her business long before pivoting was a trendy buzzword. Her success made it possible to run her business while also living an active, faith-filled lifestyle and enjoying time with family, friends, golden retrievers, and plenty of good books and wine.
Connect with Jennifer:
About the Show:
     Women Thriving in Business features candid unscripted conversations with entrepreneurs, business experts, authors, and academics aimed at contributing to business success. This weekly show provides interviews with business leaders who have built, grown, and are thriving in business. Nikki A. Rogers, host of the show, also discusses achievements, lessons learned, and advice for aspiring business owners to develop the mindset, strategies, and connections necessary to thrive in business. Whether you are just starting or you have been in business for decades, WTiB offers inspiration, strategies, and resources to help you THRIVE in business.
Connect with Nikki: