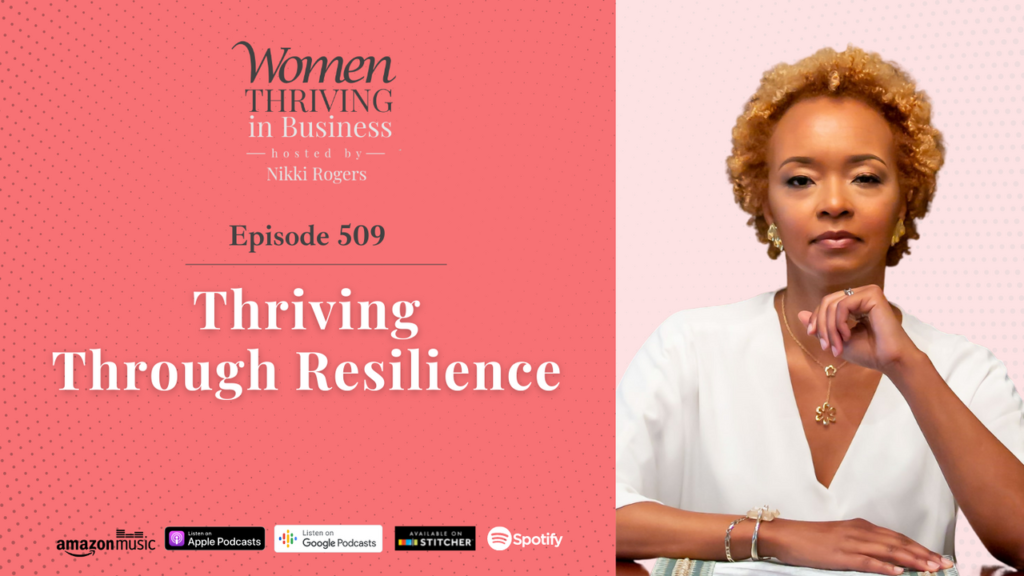 "Resilience is about taking a situation that could possibly break you and actually
thriving as a result of the lessons that you can learn by going through that experience."
– Nikki Rogers
As I was preparing for a presentation on the topic of resilience, I  reflect on the difficult situations I had to overcome in my life in order to be where I am now. I couldn't help but think back to a point in my life when I was faced with a difficult situation and thought I wouldn't be able to get through it, but I did. Those experiences that I thought of as a loss or a setback provided a great lesson in my life and showed how I have been able to leverage resilience to move forward in life.
Don't miss out on this episode as I share a story 20 years in the telling, the definition of resilience in the context of the COVID-19 pandemic, and the three key factors that can impact your level of resilience and ability to recover from challenging situations and move forward.
Other Resources Mentioned:
Thriving Points:
Resilience is about taking a situation that could possibly break you and actually thriving as a result of the lessons that you can learn by going through that experience. – Nikki Rogers
Resilience is about the ability to go through and survive an experience that may challenge or squeeze you, or even rocks your world. And being able to go through that experience and take the lesson from it and actually grow from it. And use that experience as fuel to come out better on the other side. – Nikki Rogers
I can be changed by what happens to me but I refuse to be reduced by it. – Maya Angelou
Resilience is not all or nothing. It comes in amounts. You can be a little resilient, a lot resilient, resilient in some situations but not others. And, no matter how resilient you are today, you can become more resilient tomorrow. – Karen Reivich, Ph.D. (University of Pennsylvania Positive Psychology Center)
About the Show:
Women Thriving in Business features candid unscripted conversations with entrepreneurs, business experts, authors, and academics aimed at contributing to business success. This weekly show provides interviews with business leaders who have built, grown, and are thriving in business. Nikki A. Rogers, host of the show, also discusses achievements, lessons learned, and advice for aspiring business owners to develop the mindset, strategies, and connections necessary to thrive in business. Whether you are just starting or you have been in business for decades, WTiB offers inspiration, strategies, and resources to help you THRIVE in business.
About the Host:
Nikki is a strategist and transformation coach who believes life is too short not to do what you love. She is passionate about helping entrepreneurs build sustainable companies and supports business leaders in developing the mindset, strategy, and connections to create thriving businesses and build legacy wealth.
Nikki is the CEO of The Bladen Group and an alumna of North Carolina A&T State University and UNC-Chapel Hill.
Connect with Nikki: