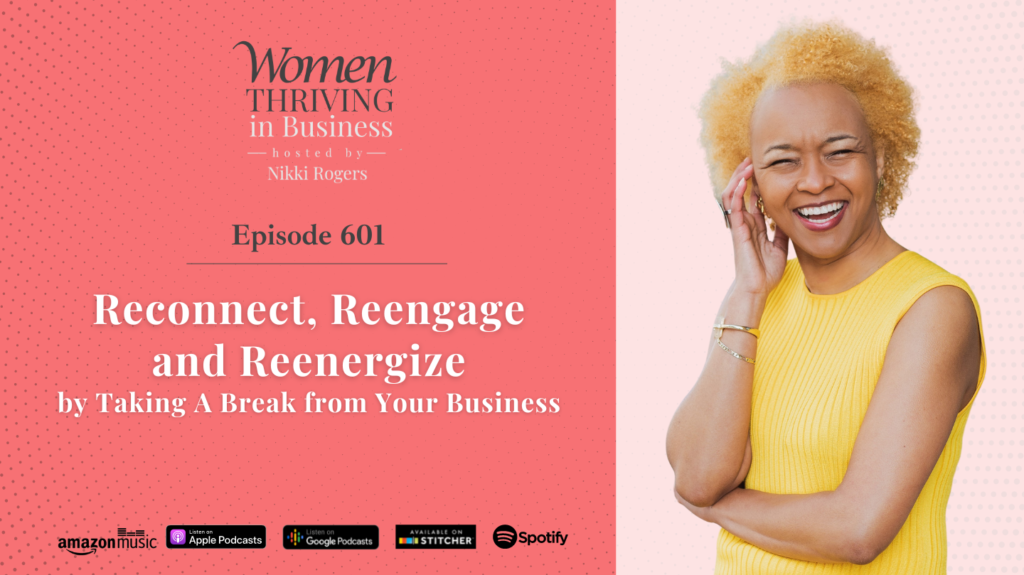 We usually equate taking time off as a non-productive approach to business. We're so used to working and grinding, thinking, producing, creating, and consuming, that we don't even take the time to stop, have a meaningful break, and reflect on how we're running our businesses or even living our lives. This is especially the case for small business owners and entrepreneurs. We know that our success and the well-being of our business are in our hands, so there's always that constant nagging fear that if we don't hustle, we won't achieve the pinnacle of success we are seeking.
This may be counterintuitive, but it's okay to take a break from your business. In fact, it's necessary.
We kick off Season 6 of the Women Thriving in Business Podcast with a crucial activity: deep thinking. Every entrepreneur should consider setting aside time for deep reflection to step back from their businesses to see the big picture and understand things from a different perspective. If we're always so close to our businesses, we may miss out on a lot of intangibles or lessons that can only be learned by stepping back or being from the outside looking in.
In this episode, I share three important insights that can come out of my own deep thinking time: it's important to 1) examine and recalibrate your why, 2) leverage your curiosity and courage to experiment and take risks, and 3) take care of your mental and physical health.
Thriving Points:
If you're an entrepreneur or are thinking about entrepreneurship, you need to sit down and schedule regular time to do some deep thinking about what is going on within your business. 

Deep thinking helped me get clarity on my mission, my vision, and some key next steps for my business.

Deep thinking allowed me the opportunity to engage with a new community of like-minded entrepreneurs. 

As you think and talk about your business, the more clarity you have, the more clarity others have as well so that they know how to refer people to you.

Take some time to examine and recalibrate your why. Your why for your business. Your why for your entrepreneurial journey. 

Experiment, experiment, and experiment again. Take risks. Try something new. Test the hypothesis. Or just take a different approach.

Take care of your mental and physical health. 
About the Show:
Women Thriving in Business features candid unscripted conversations with entrepreneurs, business experts, authors, and academics aimed at contributing to business success. This weekly show provides interviews with business leaders who have built, grown, and are thriving in business. Nikki A. Rogers, host of the show, also discusses achievements, lessons learned, and advice for aspiring business owners to develop the mindset, strategies, and connections necessary to thrive in business. Whether you are just starting or you have been in business for decades, WTiB offers inspiration, strategies, and resources to help you THRIVE in business.
About the Host:
Nikki is a strategist and transformation coach who believes life is too short not to do what you love. She is passionate about helping entrepreneurs build sustainable companies and supports business leaders in developing the mindset, strategy, and connections to create thriving businesses and build legacy wealth.
Nikki is the CEO of The Bladen Group and an alumna of North Carolina A&T State University and UNC-Chapel Hill.
Connect with Nikki: