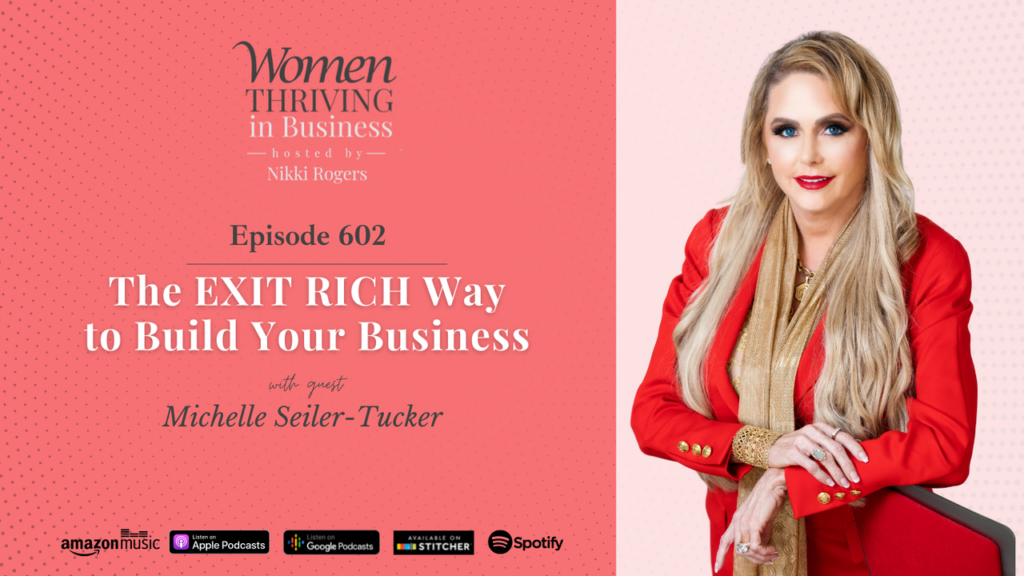 Competition is a reality of the business world. Thriving in business and standing out from any competition requires a clear strategy to build a successful and innovative business.  Establishing a strong foundation for your business will enable it to withstand any uncertainties or unforeseen circumstances.
One of the biggest mistakes that many business owners make is not having a strategy to sell their business. Therefore, when they are ready to retire or transition for other reasons, their business will either sell for less than it's worth or close down. When owners wait until they are ready to sell to begin building a sellable business, it is often too late to capitalize on their investment of time and resources.  
In this episode, I am joined by Michelle Seiler Tucker, founder, and CEO of  Seiler Tucker Incorporated. She is the best-selling author of Sell Your Business for more than It's Worth and her latest book is Exit Rich: The 6 P Method to Sell Your Business for Huge Profit, a Wall Street Journal, and USA Today best seller. She has more than 20 years of expertise in business mergers, acquisitions, and sales, making her an expert on the topic of Selling Your Business.
Michelle shares with us how to make the most of your exit by planning it from the beginning, using her GPS Exit Model. Along with the largest profit mistakes that business owners make, she also talks about the 6 Ps that will help entrepreneurs develop a sustainable, scalable, and sellable business.
Nothing lasts forever, therefore planning for your retirement or business exit is something you should keep in mind from the very beginning. One of the foundations of your business should be a plan to sell it because doing so will enable you to grow and scale it, and, whenever you decide to exit, sell it for the maximum value. Listen in to this episode to learn how you too can "exit rich.'
Other Resources Mentioned:
Thriving Points:
It's really important to build a business, not a job. -Michelle Tucker

You don't build a business. You build people who build your business. -Michelle Tucker

 If you're going to be in a business and you're an entrepreneur, you always gotta keep thinking, How do I innovate? How do I stay ahead of the game? You gotta be preemptive.  Ask yourself, What's coming next? -Michelle Tucker

You can't ever stop. You're either growing or dying. There's no in-between. And when you stop,  then that's when everything will stop. -Michelle Tucker

When your business is doing great is when you should sell it. -Michelle Tucker
Get to Know the Guest:
Michelle Seiler Tucker is the Founder and CEO of Seiler Tucker Incorporated. She holds the M&AMI (Mergers & Acquisitions Master Intermediary) title, as well as Certified Mergers and Acquisitions Professional (CM&AP) and Certified Senior Business Analyst (CSBA). Michelle also owns many other businesses in several different industries. As a 20-year veteran in the M&A industry, she is regarded as the leading authority on buying, selling, fixing, and growing businesses. She and her firm have sold businesses in almost every vertical and have a remarkable track record of success.
In addition to being featured in INC, Forbes, Entrepreneur Magazine, and USA Magazine, Michelle is an international keynote speaker and makes regular radio and TV appearances on Fox Business News and CNBC. She has spoken alongside many prominent speakers: Eric Trump, Arnold Schwarzenegger, Kathy Ireland, Donna Karen, Stedman Graham, Randi Zuckerberg, Steve Wozniak, and more. She is the Best-Selling Author of the book "Sell Your Business for more than It's Worth" and has a new book called "Exit Rich®," a Wall Street Journal and USA Today bestseller.
Connect with Michelle Tucker:
About the Show:
Women Thriving in Business features candid unscripted conversations with entrepreneurs, business experts, authors, and academics aimed at contributing to business success. This weekly show provides interviews with business leaders who have built, grown, and are thriving in business. Nikki A. Rogers, host of the show, also discusses achievements, lessons learned, and advice for aspiring business owners to develop the mindset, strategies, and connections necessary to thrive in business. Whether you are just starting or you have been in business for decades, WTiB offers inspiration, strategies, and resources to help you THRIVE in business.
About the Host:
Nikki is a strategist and transformation coach who believes life is too short not to do what you love. She is passionate about helping entrepreneurs build sustainable companies and supports business leaders in developing the mindset, strategy, and connections to create thriving businesses and build legacy wealth.
Nikki is the CEO of The Bladen Group and an alumna of North Carolina A&T State University and UNC-Chapel Hill.
Connect with Nikki: