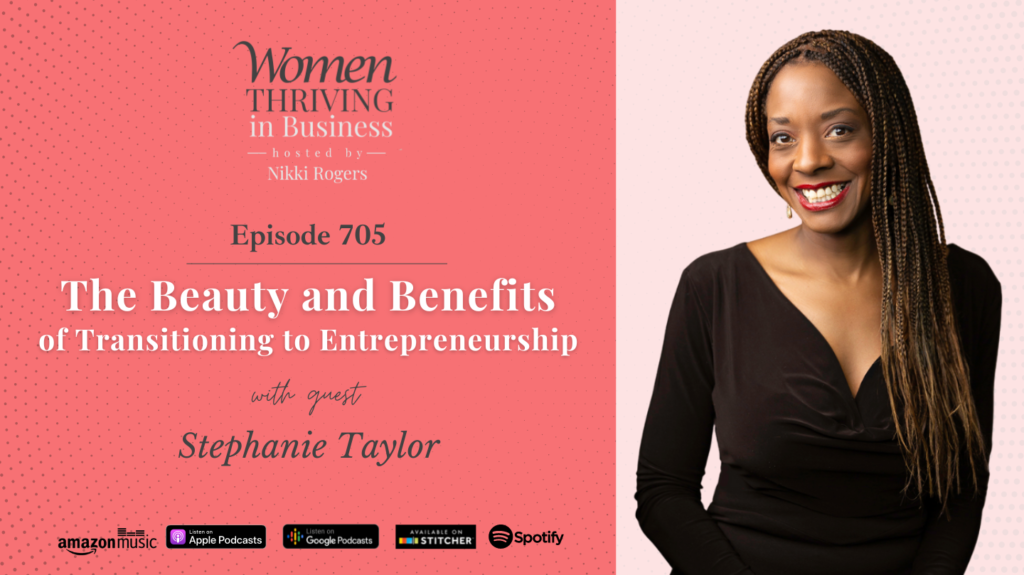 When you are striving to develop your corporate career, it is easy to be so focused on work that self-care gets overlooked.  In addition, it can lead us to neglect important people around us, and we can find ourselves successful, yet disconnected from those we love and care for.   Living a "work first" attitude can put a halt to our personal and even professional growth. It can also hamper our financial stability and affect the relationships we have in our lives.
In this episode, guest Stephanie Taylor shares how she realized that the important moments in life were passing her by and that she was capable of much more in all aspects of life, whether financial success personal relationships or self-care.  She was able to achieve her dreams by transitioning from corporate employee to owning her own real estate business.
Listen in to learn how you can take hold of your life and pursue a more fruitful path to success.

Thriving Points:
Your relationship with a person is your thoughts about them. It's not what that person does. – Stephanie Taylor
I know there are so many things that we can complain about, but we also have so much privilege and so much opportunity, that it is really an incredible blessing. – Stephanie Taylor
We can't appreciate what we don't know about. – Stephanie Taylor
Your life increases in satisfaction the more you are able to make those tough decisions. – Stephanie Taylor
Get to Know the Guest:
Stephanie Taylor is a UK-based real estate investor, co-founder of award-winning real estate management and development company, HMO Heaven, and co-founder of Rent 2 Rent Success, which has inspired thousands of non-traditional investors to get started in real estate. Along with sister and business partner Nicky, they grew their real estate management business, secured contracts worth over £2m in under three years, and bought their own multi-million-pound portfolio of multifamily blocks and commercial property.

Connect with Stephanie:
Other Resources Mentioned:
About the Show:
Women Thriving in Business features candid unscripted conversations with entrepreneurs, business experts, authors, and academics aimed at contributing to business success. This weekly show provides interviews with business leaders who have built, grown, and are thriving in business. Nikki A. Rogers, host of the show, also discusses achievements, lessons learned, and advice for aspiring business owners to develop the mindset, strategies, and connections necessary to thrive in business. Whether you are just starting or you have been in business for decades, WTiB offers inspiration, strategies, and resources to help you THRIVE in business.
About the Host:
Nikki is a strategist and transformation coach who believes life is too short not to do what you love. She is passionate about helping entrepreneurs build sustainable companies and supports business leaders in developing the mindset, strategy, and connections to create thriving businesses and build legacy wealth.
Nikki is the CEO of The Bladen Group and an alumna of North Carolina A&T State University and UNC-Chapel Hill.
Connect with Nikki: