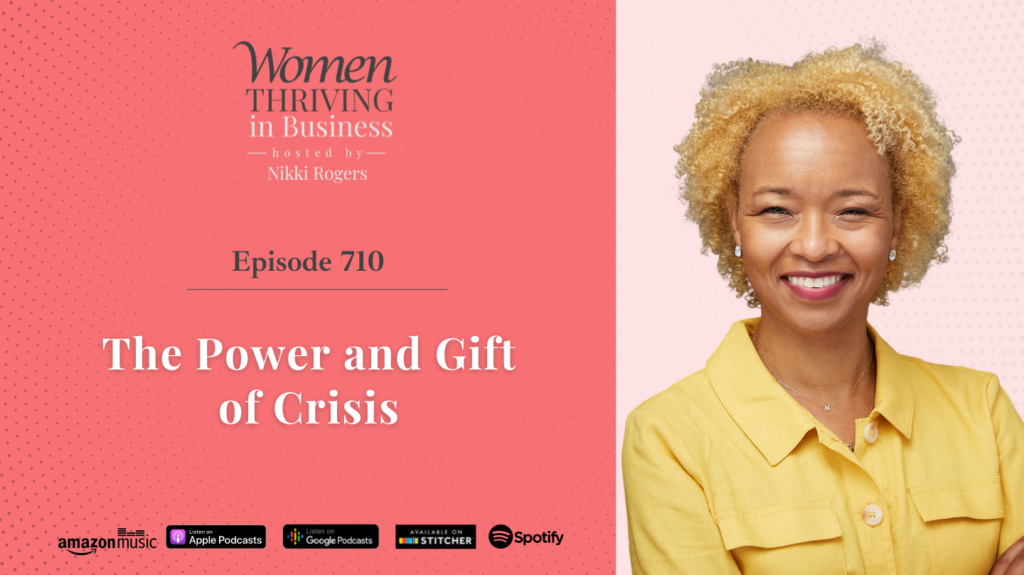 In the midst of all those different elements coming together, that crisis of courage, that crisis of confidence, the financial pieces, the health pieces – that's where the power and the gift of crisis kicked in.

-Nikki Rogers-
Life is full of peaks and valleys. We can plan as much as we can, prepare for the worst and map out our desired path down to the T. But there will always be crises along the way that cannot be averted.
I certainly couldn't.
These past few weeks have been challenging for me personally and professionally. . I've encountered many obstacles recently, that forced me to pull out the magnifying glass, carefully inspect key elements, and recalibrate my approach to business and life.
While no one wants to experience a crisis, I did find a silver lining in the aftermath. Moving through the emotional and psychological effects led me to a heightened sense of power and resolve to pursue my goals and dreams.
In this episode, I share about different crises I faced recently that I have gratefully overcome. Through stillness, candid discussions, and reflection, I  assessed my situation and developed a way forward.
So Thrivers, as you listen to this episode, I raise a thought-provoking question for us all. What are some of the things that have helped you really lean into the idea of the power – and maybe even the gift – of crisis?
Thriving Points:
I am unemployable. And by that, I mean I can't go back to not being the visionary and the key decision-maker around how I spend my time and my energy.
I had to deal with the facts of the moment as well as the feelings that were coming up as a result of viewing those facts, and that moment of crisis really scared me. But it also motivated me and pushed me out of my comfort zone.
I started to think about how I can be more strategic about where I show up, when I show up and how I show up so that I am attracting the kind of partners and clients that can support and align with my vision.
Start to get clear about what your vision is and what you're doing in your vision and your life. And some of that clarity will actually come in the doing.
Have that magnetism that attracts those people and those opportunities that are going to propel you toward your vision. These are your optimal connections.
Mentioned on the Show:
About the Show:
Women Thriving in Business features candid unscripted conversations with entrepreneurs, business experts, authors, and academics aimed at contributing to business success. This weekly show provides interviews with business leaders who have built, grown, and are thriving in business. Nikki A. Rogers, host of the show, also discusses achievements, lessons learned, and advice for aspiring business owners to develop the mindset, strategies, and connections necessary to thrive in business. Whether you are just starting or you have been in business for decades, WTiB offers inspiration, strategies, and resources to help you THRIVE in business.
About the Host:
Nikki is a strategist and transformation coach who believes life is too short not to do what you love. She is passionate about helping entrepreneurs build sustainable companies and supports business leaders in developing the mindset, strategy, and connections to create thriving businesses and build legacy wealth.
Nikki is the CEO of The Bladen Group and an alumna of North Carolina A&T State University and UNC-Chapel Hill.
Connect with Nikki: