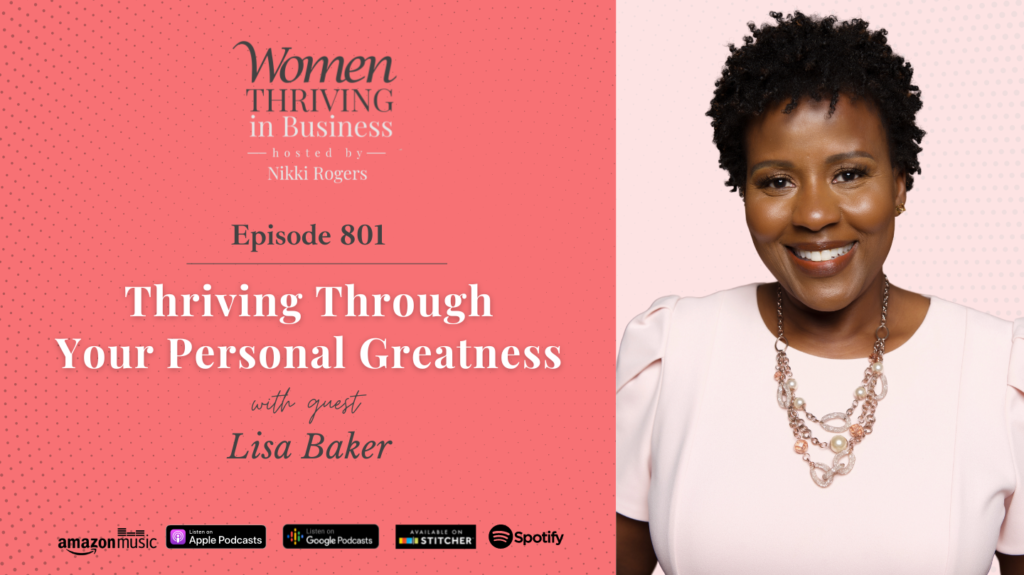 What is your next career move?  Should you go after that big promotion you have dreamed of? Or should you start that business you've always wanted to pursue?
No matter where you see yourself, whether it's owning your own business or climbing the ladder in your organization, the question is this: do you feel powerful enough to make the next move toward your vision? My guest Lisa Baker spent over 30 years in corporate, ultimately becoming a Senior Vice-President managing a $2.5 billion P&L. She has had experiences and made connections that many of us dream of.  Yet, Lisa doesn't consider herself extraordinary and believes that we all can achieve professional and personal success by leveraging our inherent greatness.
During our wide-ranging and engaging discussion, Lisa shared how her parent's decision to migrate from Atlanta to St. Louis in the 1950s not only changed the trajectory of her family but also established the foundation for her future success. Lisa is the youngest of 8 siblings and grew up hearing about the impact that the move to St. Louis had on her older siblings. These stories of sacrifice and challenge motivated her to work hard to make her family proud.
Lisa is an ICF-certified coach, and her passion for helping others achieve success by identifying their strengths, passions, and purpose is what drives her as an entrepreneur. In this episode, she shares her stories of navigating the corporate world, starting her own coaching business, and some words of advice to help women of color thrive in a demanding corporate environment.
Listen to Episode 801 to learn more!
Other Resources Mentioned:
Thriving Points:
One of the things that I often say to people is to find what your area of greatness is and work in that space because that's where you're going to thrive. – Lisa Baker

We, women, are often so accommodating. We don't wanna hurt anybody's feelings. We feel like we have to say yes to everything. But you cannot do that if you're going to run a successful business. You really have to know when to say no and limit your time and exposure to things that aren't driving you toward your goals.  – Lisa Baker

You have to get really good at building meaningful relationships… Getting to know people, and more importantly, allowing them to get to know you. People would want to work with and promote folks that they know, like, and trust. And you can't build that trust without really investing time in building meaningful connections. – Lisa Baker

Know who you are, know what your strengths are, and what you bring to the table so you can operate from a place of confidence in knowing your worth. – Lisa Baker

You do need to fit within the organization that you're in. But that doesn't mean you conform yourself to some shape that really isn't you. It is being who you are authentically but also understanding the norms and what is acceptable in the environments that you're in. – Lisa Baker
Get to Know the Guest:
Lisa L. Baker is a Founder, Speaker, and ICF-Certified Coach. Lisa is known for showing high-performing professionals how to level up and live the life of their dreams. But her superpower is helping professional women who feel undervalued in their careers own their power, communicate their worth with confidence, and crush barriers to achieve the promotions and pay they deserve.
Lisa has three decades of extraordinary success in a series of leadership roles at Fortune 500 companies that include Synchrony, Microsoft, Citigroup, and Bank One. She retired at age 54 to pursue her dream of helping others to reach their peak. Her greatest passions are faith, family, and financial freedom.
In 2021, Lisa founded Ascentim LLC. This coaching practice guides its clients to live more meaningful and abundant lives. Ascentim was recognized by Stellar Business for excellent service in personal coaching and won a Silver Globee® in the Women's World Awards for StartUp of the Year. 
Connect with Lisa :
About the Show:
Women Thriving in Business features candid unscripted conversations with entrepreneurs, business experts, authors, and academics aimed at contributing to business success. This weekly show provides interviews with business leaders who have built, grown, and are thriving in business. Nikki A. Rogers, host of the show, also discusses achievements, lessons learned, and advice for aspiring business owners to develop the mindset, strategies, and connections necessary to thrive in business. Whether you are just starting or you have been in business for decades, WTiB offers inspiration, strategies, and resources to help you THRIVE in business.
About the Host:
Nikki is a strategist and transformation coach who believes life is too short not to do what you love. She is passionate about helping entrepreneurs build sustainable companies and supports business leaders in developing the mindset, strategy, and connections to create thriving businesses and build legacy wealth.
Nikki is the CEO of The Bladen Group and an alumna of North Carolina A&T State University and UNC-Chapel Hill.
Connect with Nikki: