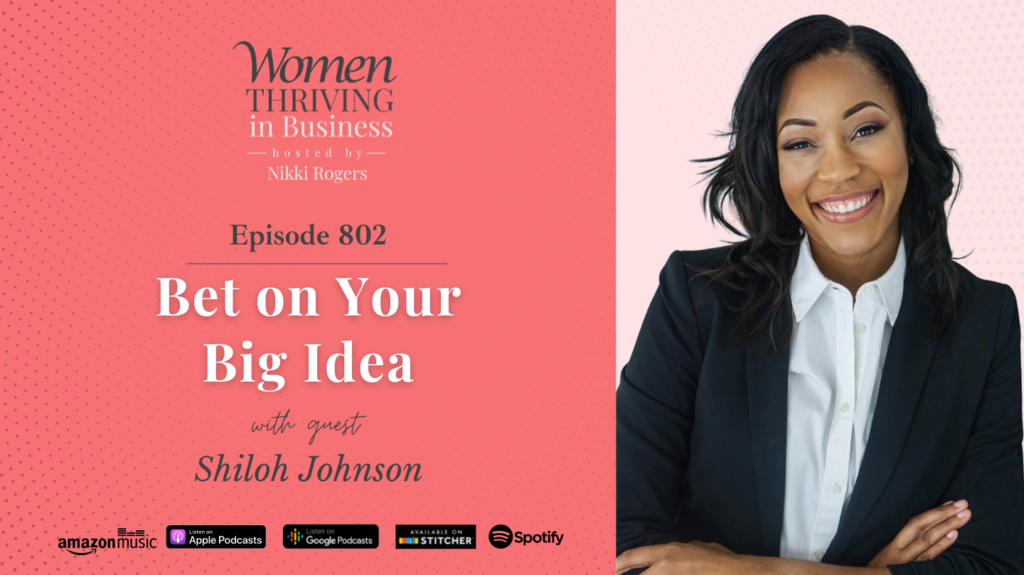 Have you been sitting on a great idea or concept for a while, but you are hesitant to put it into action? What if, instead of being paralyzed by fear,  you decided to bet on yourself and your big idea?  If you decide to make your concept a reality, you have the potential to create a successful business and benefit others who can use your product or service. 
My guest this week, Shiloh Johnson, is the Founder and CEO of ComplYant, a technology platform offering entrepreneurs stress-free guidance to manage complex tax rules and regulations year-round. Shiloh leveraged her tax practice experience and deep understanding of business tax challenges to found a technology firm focused on helping 31 million small businesses move from tax confusion to compliance.  
Her big idea has paid off – Shiloh has raised over $12M in funding, making her one of the few African American women founders to raise over $1M. Not only is Shiloh living proof that taking full responsibility for your own journey will lead to a brighter future, but she is also a firm believer that when you have an idea, you should try it right away. If it doesn't work out, learn from it and use the lessons learned as motivation to keep trying until you succeed.
Shiloh shares the inspiration for her decision to start ComplYant, the beauty of taking full responsibility for your own ideas, and the challenges of making it a reality. 
Listen to Episode 802 to learn more!
Other Resources Mentioned:
Thriving Points:
I'm gonna try this thing. And if it doesn't work out, I walked away with a great set of experiences, and maybe a bigger network.

-Shiloh Johnson

Even when people around you are saying you can't do it, those are just words, like the effort comes from you, not them.

-Shiloh Johnson

I try not to get too hung up on the sadness of the result of the decision, but instead, use it as a lesson.

-Shiloh Johnson

If you've ever had an idea about something that sparked, that innovation, that moment, fuel in the best way because you're so amped up and excited about what that thing is, that idea you have.

-Shiloh Johnson

I didn't give myself a chance to doubt myself.

-Shiloh Johnson

I think there's always the fire and passion you have within yourself that pulls you forward, even if no one's there to cheer you on.

-Shiloh Johnson

Sometimes things just need to die so that the next thing can be born.

-Shiloh Johnson

Just be really careful about who you decide to go into business with.

-Shiloh Johnson

What matters in business is having someone who has complementary skill sets to you.

-Shiloh Johnson
Get to Know the Guest:
Shiloh Johnson, a long-time accountant and financial trauma advocate, is the founder and CEO of ComplYant, a digital tax assistant to help small businesses organize, save, and pay for various business taxes. Rooted in the mission to remove tax barriers for small or underrepresented business owners, ComplYant offers unique solutions to not only help founders navigate their taxes but to anticipate owed taxes and budget ahead of time.
Connect with Shiloh:
About the Show:
Women Thriving in Business features candid unscripted conversations with entrepreneurs, business experts, authors, and academics aimed at contributing to business success. This weekly show provides interviews with business leaders who have built, grown, and are thriving in business. Nikki A. Rogers, host of the show, also discusses achievements, lessons learned, and advice for aspiring business owners to develop the mindset, strategies, and connections necessary to thrive in business. Whether you are just starting or you have been in business for decades, WTiB offers inspiration, strategies, and resources to help you THRIVE in business.
About the Host:
Nikki is a strategist and transformation coach who believes life is too short not to do what you love. She is passionate about helping entrepreneurs build sustainable companies and supports business leaders in developing the mindset, strategy, and connections to create thriving businesses and build legacy wealth.
Nikki is the CEO of The Bladen Group and an alumna of North Carolina A&T State University and UNC-Chapel Hill.
Connect with Nikki: