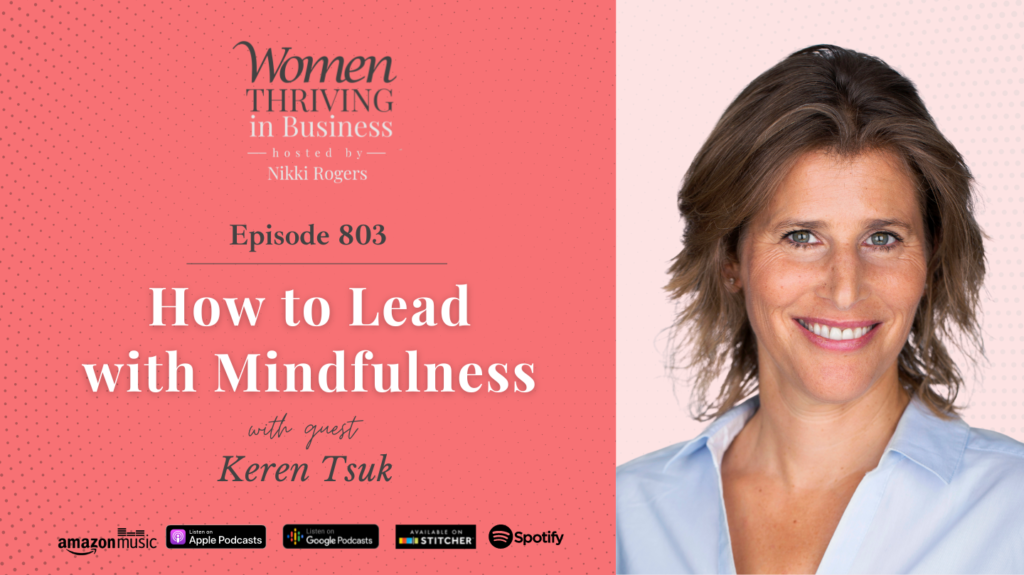 In an uncertain economy and a seismic shift in ways of working, organizations are feeling the impact of the great resignation and "quiet quitting," while individuals are reporting unprecedented rates of burnout. As leaders, how can we transform the workplace for the better?
How do we create better workplaces where employees feel seen, heard, connected, engaged, and fulfilled? Where their purpose and passions are acknowledged and supported? 
In this episode, Keren Tsuk,  keynote speaker, consultant, and a thought leader in 21st-century leadership, shares that mindfulness is the key to transforming the workplace into a better space. She explains that mindfulness not only means to be fully present in the moment but also refers to being aware of the experiences we are going through.
Listen to Episode 803 to learn more about mindful leadership!
Other Resources Mentioned:
Thriving Points:
I found that mindfulness is a crucial element that we need to embrace nowadays in order to lead our companies and be on the cutting edge and engage our employees. – Keren Tsuk 

The coronavirus transformed not only global work but also workplaces and caused people to ask themselves tough questions, "Why do I want to invest my time? Why do I want to engage in this company?" – Keren Tsuk 

What I learned in this path, first of all, is to love myself unconditionally. [It may not seem] connected to what I'm doing in my job description and to the external things, but [it's important] to connect to my worth from my inner strength, to increase my self-esteem, and to accept myself as I am. – Keren Tsuk 

I needed to go through this transformative process myself in order to be able to help other people to connect to themselves. – Keren Tsuk 

Mindfulness actually helps us to manage [our emotions] and not be managed by our emotions. – Keren Tsuk 
Get to Know the Guest:
Keren is a keynote speaker, consultant, and thought leader in 21st-century leadership, as well as the author of the book Mindfully Wise Leadership. She founded the consultancy Wisdom To Lead which specializes in the development of senior management teams and corporate leaderships. Keren helps companies and teams reach their full potential using mindfulness techniques. Checkpoint, Earnix, Plarium, Verint, Amdocs, Ex Libris, Google, and Siemens are all companies Keren has worked with. As a keynote speaker on the topic of the relationship between mindfulness and leadership, she also speaks at conferences worldwide and in fortune 500 companies.
Connect with Keren:
About the Show:
Women Thriving in Business features candid unscripted conversations with entrepreneurs, business experts, authors, and academics aimed at contributing to business success. This weekly show provides interviews with business leaders who have built, grown, and are thriving in business. Nikki A. Rogers, host of the show, also discusses achievements, lessons learned, and advice for aspiring business owners to develop the mindset, strategies, and connections necessary to thrive in business. Whether you are just starting or you have been in business for decades, WTiB offers inspiration, strategies, and resources to help you THRIVE in business.
About the Host:
Nikki is a strategist and transformation coach who believes life is too short not to do what you love. She is passionate about helping entrepreneurs build sustainable companies and supports business leaders in developing the mindset, strategy, and connections to create thriving businesses and build legacy wealth.
Nikki is the CEO of The Bladen Group and an alumna of North Carolina A&T State University and UNC-Chapel Hill.
Connect with Nikki: