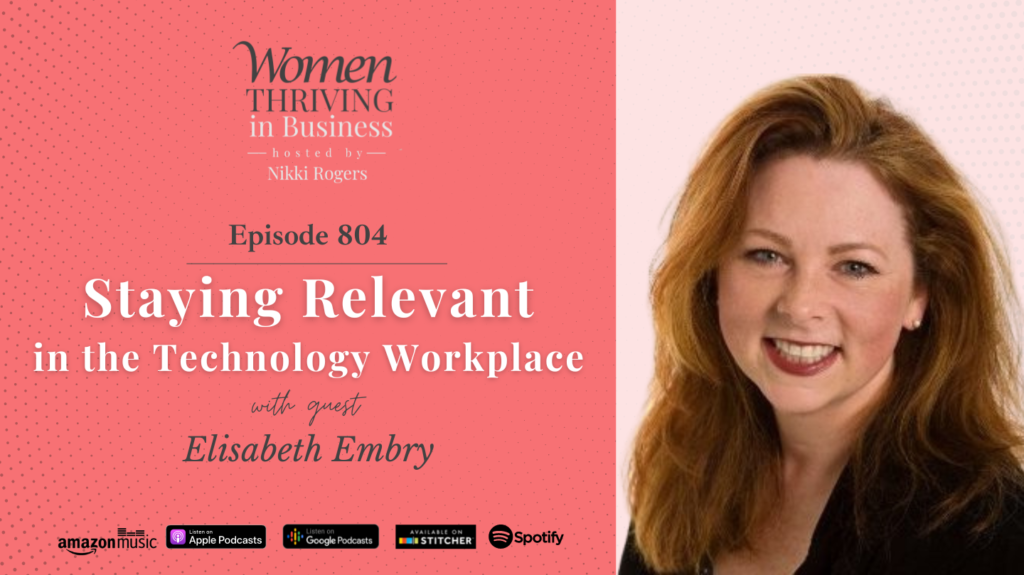 What allows a business to thrive and be successful in the face of constant change in the market and the world? What propels organization leaders to achieve ambitious goals? 
There's no one perfect answer to these questions, but rather a myriad of options and strategies that can be employed to create success. The real question is—which strategy should you start with? 
In this episode, Elisabeth Embry answers our inquiries about strategies and the road to success. A strategic thinker with 25+ years of executive experience at Fortune 500 companies, startups, and everything in between, Elisabeth shares with us the foundation of  every successful organization's strategy—its people and culture.
Listen to Episode 804 to learn more!
Other Resources Mentioned:
Thriving Points:
It's important to be relevant and understand that the things that are important now are going to help set the tone and the temperament of where the company, department, or yourself is going. – Elisabeth Embry

At the end of the day, it is all about people. – Elisabeth Embry

When we are leaders, we have to be aware of our strengths and our weaknesses. – Elisabeth Embry

Make sure that people feel like they're part of the process. That the company is growing. It's not about replacing or displacing, it's about amplifying, growing, and just getting that message out to the organization as a whole. That is such a great opportunity to set the tone and set the culture of that organization. – Elisabeth Embry

What needs to be more explicitly stated in organizations is that we are all going toward this goal. And here's your role to play in it. – Nikki Rogers
Get to Know the Guest:
Driving transformation and delivery at scale and at pace, Elisabeth Embry has helped enterprises, divisions, and individuals achieve massive success. Elisabeth is a strategic thinker, able to grasp and articulate the big picture and translate it into meaningful and effective actions. She possesses unique skills based on 25+ years of executive experience at Fortune 500 companies, startups, and everything in between. Through her experiences in companies such as Expedia, Amazon, IBM, and T-Mobile, she has led effective strategy and execution at the portfolio, project, and product levels. She has hands-on experience leading product organizations, business operations, strategic and organizational planning, as well as SAFe and Agile transformations. She enables teams to deliver more, with quality, while increasing speed and predictability, with a metrics-driven approach.
Connect with Elisabeth:
About the Show:
Women Thriving in Business features candid unscripted conversations with entrepreneurs, business experts, authors, and academics aimed at contributing to business success. This weekly show provides interviews with business leaders who have built, grown, and are thriving in business. Nikki A. Rogers, host of the show, also discusses achievements, lessons learned, and advice for aspiring business owners to develop the mindset, strategies, and connections necessary to thrive in business. Whether you are just starting or you have been in business for decades, WTiB offers inspiration, strategies, and resources to help you THRIVE in business.
About the Host:
Nikki is a strategist and transformation coach who believes life is too short not to do what you love. She is passionate about helping entrepreneurs build sustainable companies and supports business leaders in developing the mindset, strategy, and connections to create thriving businesses and build legacy wealth.
Nikki is the CEO of The Bladen Group and an alumna of North Carolina A&T State University and UNC-Chapel Hill.
Connect with Nikki: