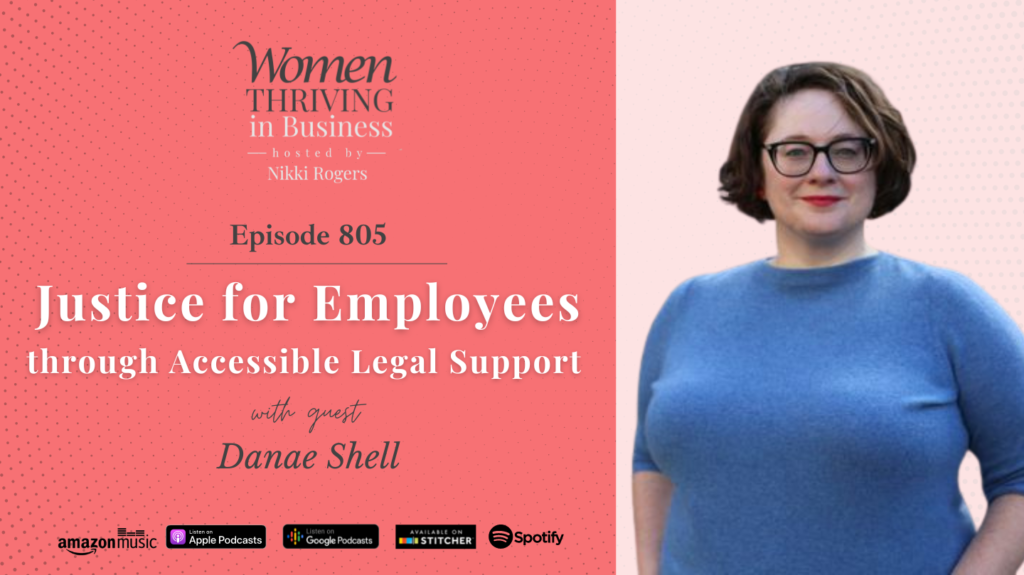 It's undeniable that even though the workplace is an exciting place to grow, mature, compete, and excel, it is also a place where harassment, oppression, inequality, racism, sexism, and many other problems can occur. These are problems that many employees face in the workplace. How can those who experience these issues fight back and obtain justice?  How do we make people understand these are not individual problems, but systemic issues that need to be addressed?
This gives the legal aspects of things a big market for a startup, but the big question is: how do we approach the needs of the employees in a legal aspect, and how do we make investors understand that it is a purposeful area to pursue?
In this episode, Danae Shell, co-founder and CEO of Valla, shares with us the impetus for starting Valla, a startup that makes legal support accessible and affordable for everyone, the challenges of integrating technology and legal services, the issues encountered by women tech founders, and more lessons learned from her extensive startup experience. 
Listen to Episode number to learn more!
Other Resources Mentioned:
Thriving Points:
Valla is a platform that helps people represent themselves in court or tribunal if they can't afford a traditional law firm—which means that it's for most people because most people can't afford a traditional law firm. – Danae Shell

The problem wasn't finding the lawyer, the problem was affording the lawyer. – Danae Shell

Who you choose to back you as a company really matters at those [early] stages because an investor who doesn't understand early-stage startups could have easily tried to push us to rush to revenue too quickly. – Danae Shell

All female-founded companies like mine receive less than 2% of all the venture capital that's deployed… That the way that that manifests in terms of difficulty is you have less access to networks. – Danae Shell

It's really about finding the people that get you immediately. The whole thing about fundraising is you usually know within the first 10 minutes or maybe half an hour of a conversation if somebody's gonna invest in you. – Danae Shell

It wasn't like there was this special breed of people out there who could create companies and try and tackle big societal problems or big commercial problems, it's just something that anyone who puts their mind to it can do. – Danae Shell
Get to Know the Guest:
Danae Shell is the co-founder and CEO of Valla, a tech startup that is making legal support accessible and affordable for everyone. Danae is a developer-turned-marketer and a Tennessean who has worked in Scotland's (UK) startup scene for over 17 years. She has the extensive scale-up experience, joining as an early employee in Scottish startups FreeAgent and Care Sourcer and helping to build and scale their marketing teams. Danae is passionate about building inclusive, kind companies that support high-performing teams.
Connect with Danae:
About the Show:
Women Thriving in Business features candid unscripted conversations with entrepreneurs, business experts, authors, and academics aimed at contributing to business success. This weekly show provides interviews with business leaders who have built, grown, and are thriving in business. Nikki A. Rogers, host of the show, also discusses achievements, lessons learned, and advice for aspiring business owners to develop the mindset, strategies, and connections necessary to thrive in business. Whether you are just starting or you have been in business for decades, WTiB offers inspiration, strategies, and resources to help you THRIVE in business.
About the Host:
Nikki is a strategist and transformation coach who believes life is too short not to do what you love. She is passionate about helping entrepreneurs build sustainable companies and supports business leaders in developing the mindset, strategy, and connections to create thriving businesses and build legacy wealth.
Nikki is the CEO of The Bladen Group and an alumna of North Carolina A&T State University and UNC-Chapel Hill.
Connect with Nikki: