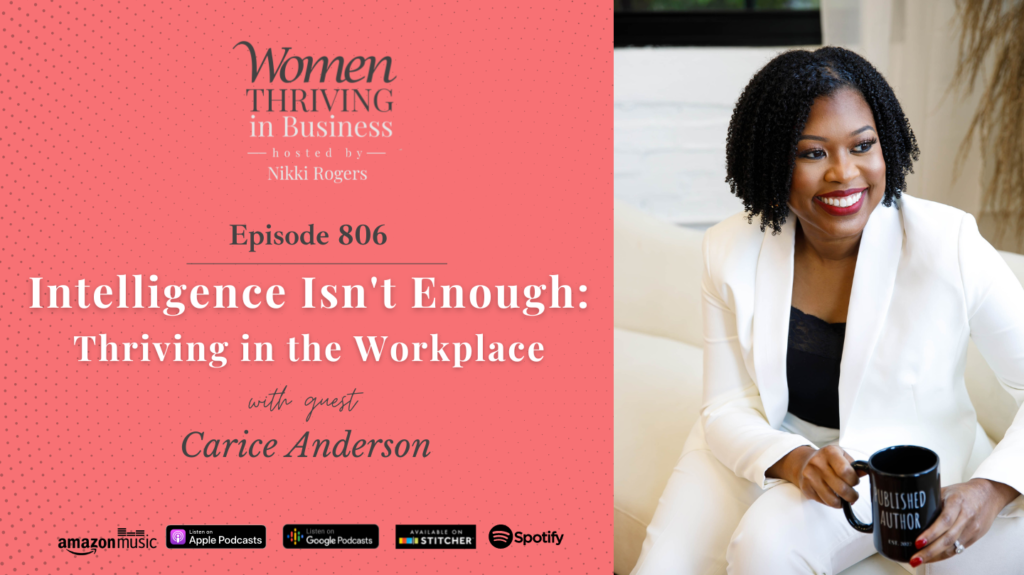 Starting a career or a new job does NOT come with a manual. There is no one-size-fits-all solution for adapting to a new workplace. There are multiple factors to adjust to, including workplace dynamics, organizational values and practices, and new responsibilities. This transition might take a long time before you can actually feel comfortable and stable in your new environment and role. You have the smarts and skills to succeed, but do you know what else is important?
To really thrive, you have to be aware of and understand the expectations and perspectives of others. Self-awareness and emotional intelligence are keys to climbing the corporate ladder or leading an organization.
Gracing the podcast this week is Carice Anderson, career woman and author of Intelligence Isn't Enough, A Black Professionals Guide to Thriving in the Workplace. Besides being an author, she is now in the fourth phase of her career, as she would like to put it. She has undergone several career transitions, worked among diverse groups of people across continents, and taken all that she has learned to write an informational and inspirational career guide.
Carice opens up about her journey from one work environment to another—from corporate to freelance, from the USA to South Africa. She takes us through her ups and downs of being a Black professional, how her identity and circumstances shaped her experiences, and the stories and lessons she picked up along the way.
Listen in to our enlightening discussion!
Other Resources Mentioned:
Thriving Points:
"There are people who cannot put your values aside. They rule everything about the way you interact with people and how you expect people to interact with you. So if you're in an environment full of people who have no values, it's just not gonna work. " – Carice Anderson

"Biggest mistake was not realizing that excellence does not happen in a vacuum. It happens through and with other people. And if that is your understanding, then you will know that your manager is not your professor." – Carice Anderson

"If you can't understand, recognize, and manage your own emotions, you can't understand and influence the emotions of others." – Carice Anderson

"If you want to be an entrepreneur or when you are a business owner, you have to meet yourself. You learn what your values are and learn where your boundaries are." – Nikki Rogers
Get to Know the Guest:
Carice Anderson is a major in Business. She is the author of Intelligence Isn't Enough, A Black Professionals Guide to Thriving in the Workplace  and published it in South Africa and the UK last 2022.  She holds a MBA from Harvard Business School and a Bachelor of Science in Marketing from the University of Alabama. Carice enjoys traveling, and massages, and she is obsessed with mangoes, chocolate, and laughter.
Connect with Carice:
About the Show:
Women Thriving in Business features candid unscripted conversations with entrepreneurs, business experts, authors, and academics aimed at contributing to business success. This weekly show provides interviews with business leaders who have built, grown, and are thriving in business. Nikki A. Rogers, host of the show, also discusses achievements, lessons learned, and advice for aspiring business owners to develop the mindset, strategies, and connections necessary to thrive in business. Whether you are just starting or you have been in business for decades, WTiB offers inspiration, strategies, and resources to help you THRIVE in business.
About the Host:
Nikki is a strategist and transformation coach who believes life is too short not to do what you love. She is passionate about helping entrepreneurs build sustainable companies and supports business leaders in developing the mindset, strategy, and connections to create thriving businesses and build legacy wealth.
Nikki is the CEO of The Bladen Group and an alumna of North Carolina A&T State University and UNC-Chapel Hill.
Connect with Nikki: