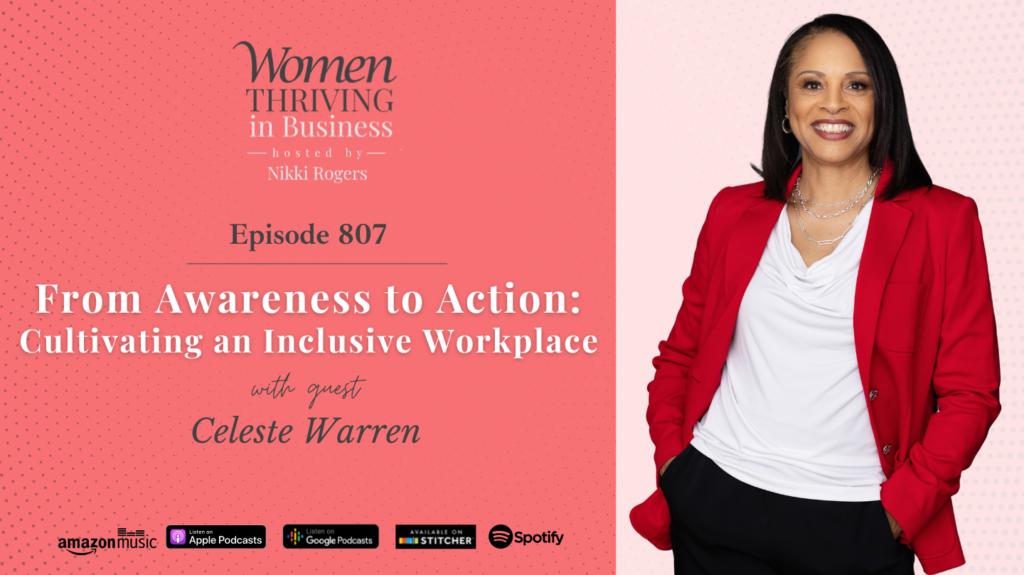 The approach to diversity and inclusion within corporate workplaces has evolved over the last four decades. Organizations have moved beyond compliance to a current focus on creating inclusive environments that engage and empower employees. All change begins at the top and leaders must take initiative to incorporate equity and inclusion in their organizations.
My guest, Celeste Warren, a global executive in diversity and inclusion, shares her insights and experiences in promoting diverse and inclusive workplaces. In this episode, we delve into the million-dollar question of how individual leaders can influence others to cultivate inclusive workplaces where everyone feels they belong. Join us for a thought-provoking discussion on this important topic.
Listen to Episode 807 to learn more!
Other Resources Mentioned:
Thriving Points:
"And so you have to look. Your policies, your procedures, your practices, because sometimes you might have the policies and the procedures, but if the managers and the leaders aren't actively practicing it with their employees, the policy's not even as good as the paper that it's written on." – Celeste Warren

"As a leader, you have to make sure that you understand what is happening from a cultural standpoint, from a social standpoint, from a political standpoint externally, and the impact that it's having on certain communities of employees within the workplace, and if you don't understand that, then you talk about the war for talent, you're not gonna be able to thrive." – Celeste Warren"

"You have to understand where people come from no matter whatever, their walk of life. Everybody comes to the workplace from different spaces with these deeply held beliefs that they were taught from childhood." – Nikki Rogers

"What is it that I need to do? What am I missing? What skills, what capabilities, what biases do I have? Get in touch with yourself and understand you as a person." – Celeste Warren
Get to Know the Guest:
Celeste Warren is Vice President, Global Diversity and Inclusion Center of Excellence at Merck. Celeste has over 30 years of experience in the fields of Human Resources Diversity, Equity and Inclusion, and Change Management.
She serves on the boards of RWJBarnabas Health Systems and "All In Together." She is also a member of CNBC's Workforce Executive Council and World 50's Inclusion and Diversity Impact Community.
Celeste is the author of the book How to be a Diversity & Inclusion Ambassador: Everyone's Role in Helping All Feel Accepted, Engaged and Valued. Her articles on diversity, equity and inclusion have been featured in numerous national and global publications. She has had the opportunity to speak at various events across the world.
She has been honored with many awards, including:
Black Enterprise's "Top Executives in Global Diversity and Inclusion"

Savoy Magazine's "Most Influential Women in Corporate America"

Women's eNews' "21 Leaders for the 21st Century"

Diversity Global Magazine's "Influential Women in Global Diversity"

Diversity Woman Magazine's: "Elite100" List
Connect with Celeste:
About the Show:
Women Thriving in Business features candid unscripted conversations with entrepreneurs, business experts, authors, and academics aimed at contributing to business success. This weekly show provides interviews with business leaders who have built, grown, and are thriving in business. Nikki A. Rogers, host of the show, also discusses achievements, lessons learned, and advice for aspiring business owners to develop the mindset, strategies, and connections necessary to thrive in business. Whether you are just starting or you have been in business for decades, WTiB offers inspiration, strategies, and resources to help you THRIVE in business.
About the Host:
Nikki is a strategist and transformation coach who believes life is too short not to do what you love. She is passionate about helping entrepreneurs build sustainable companies and supports business leaders in developing the mindset, strategy, and connections to create thriving businesses and build legacy wealth.
Nikki is the CEO of The Bladen Group and an alumna of North Carolina A&T State University and UNC-Chapel Hill.
Connect with Nikki: