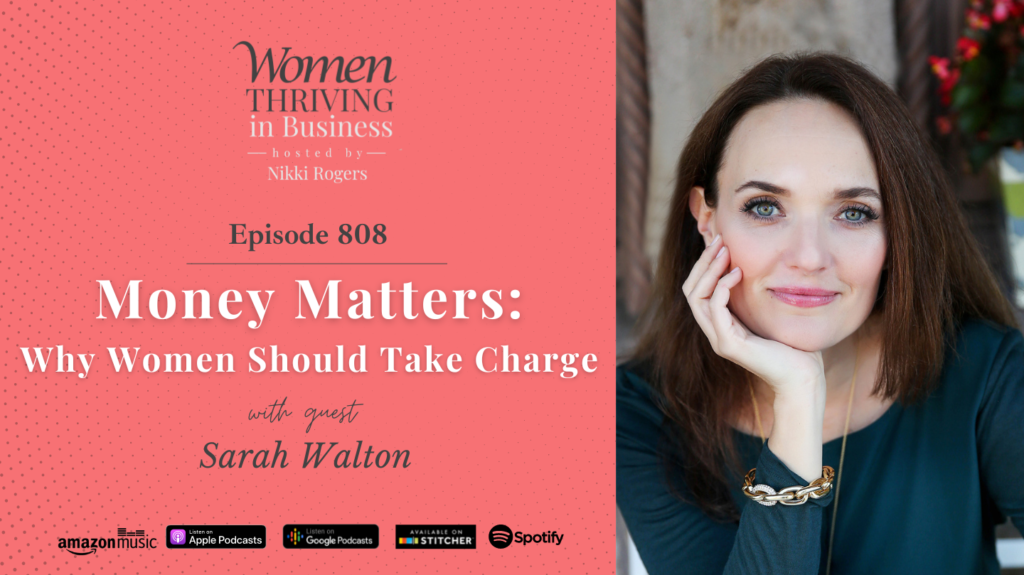 Societal messages often suggest that women must choose between taking care of their families and taking care of themselves. This, coupled with persistent wage inequality, false assumptions about women's financial literacy, and previous laws that restricted women's money-related activities, can inhibit women from creating wealth and achieving financial freedom.
In this episode, our guest Sarah Walton challenges these limiting beliefs and empowers women to take control of their financial lives. As Sarah puts it, "Women need each other." She helps women to become financially independent and make decisions that align with their values and goals.
Sarah is the founder of Sarah Walton Coaching, and in this conversation, she shares her inspiring journey from humble beginnings to successful entrepreneur and business coach.
Tune in to Episode 808 to hear more about Sarah's story and her insights on how women can build financial prowess and reclaim their power.
Other Resources Mentioned:
Thriving Points:
"There was an artist who made that bag. An artist made those shoes. I'm paying for first class because somebody designed those seats. There's a chef who came up with the meals. Those flight attendants are highly trained and they deserve to be paid. Having that attitude towards money and understanding that we have a right to participate in the circulation of money on this planet, and sort of stepping into the power of that." – Sarah Walton

"For anybody who's just launching is, 'Oh, I'm so scared to launch.' You're not scared to launch, you're scared to appear small." – Sarah Walton

"Anytime you feel like you're not in the chain of abundance, you don't have money flowing, go sit in a Starbucks and watch how much money is exchanging hands 24/7. And if we have more money in the hands of more women, we're gonna have more of a say of where that's getting pushed and that matters." – Sarah Walton

"If you really love something so much, you could do it all day, every day. That may or may not be a good business idea for you. Sitting with that and understanding, am I gonna be able to be objective about this and actually look at this as a service, as something that I'm giving to the world?" –  Sarah Walton
Get to Know the Guest:
Sarah Walton is a success coach and business mentor who's been featured on The Today Show, speaks at women's conferences all over the world and has helped hundreds of women start and grow businesses they LOVE.
Originally from Salt Lake City, Sarah spent her 15-year corporate career in New York City, navigating the male-dominated world of tech, managing a P&L worth hundreds of millions of dollars, working closely with Marianne Williamson, mentoring dozens of women, and balancing motherhood at the same time.
She's the voice behind the Game On Girlfriend Podcast, and she's known for her weekly "Coffee With Coach" streaming video conversations on Monday mornings.
She offers comprehensive online courses including The Sales Mastermind and The Abundance Academy. She also runs her exclusive quarterly "Sprints" where you work on one goal, for one quarter, designed for women who are serious about growing and staying focused.
Sarah has become the go-to source of inspiration, no-nonsense teaching and practical integration for women in business.
She's created a successful business and now speaks across the nation, offering her courses and workshops, which are designed to put more money in the hands of more women.
Connect with Sarah:
About the Show:
Women Thriving in Business features candid unscripted conversations with entrepreneurs, business experts, authors, and academics aimed at contributing to business success. This weekly show provides interviews with business leaders who have built, grown, and are thriving in business. Nikki A. Rogers, host of the show, also discusses achievements, lessons learned, and advice for aspiring business owners to develop the mindset, strategies, and connections necessary to thrive in business. Whether you are just starting or you have been in business for decades, WTiB offers inspiration, strategies, and resources to help you THRIVE in business.
About the Host:
Nikki is a strategist and transformation coach who believes life is too short not to do what you love. She is passionate about helping entrepreneurs build sustainable companies and supports business leaders in developing the mindset, strategy, and connections to create thriving businesses and build legacy wealth.
Nikki is the CEO of The Bladen Group and an alumna of North Carolina A&T State University and UNC-Chapel Hill.
Connect with Nikki: