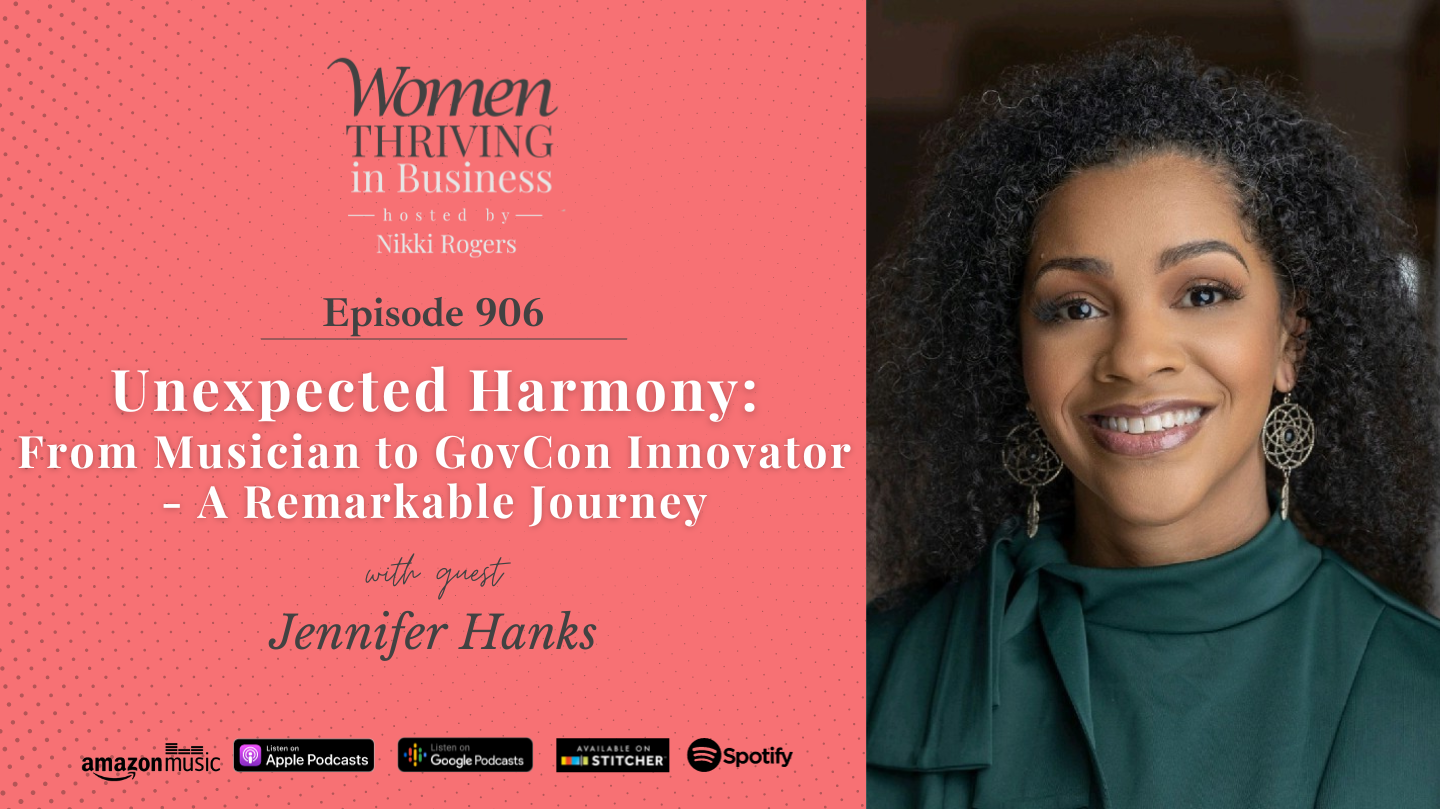 Diving into government contracting is no small feat—it's a bold undertaking requiring courage and a deep grasp of the intricate landscape of policy making and implementation. As this challenging yet rewarding path unfolds, Jennifer Hanks, CEO of MMC Consulting and Co-Founder of Fed Propel Institute, seizes the opportunity with determination.
In this episode, Jennifer shares strategies for building and managing cost-effective teams, navigating the challenges of entrepreneurship, and the unexpected twists of starting MMC Consulting amid pregnancy and parenting during the pandemic. Discover her commitment to shaping the next generation of acquisition professionals and the impactful initiatives of the FedPROPEL Institute, designed to empower women, veterans, and minority-owned businesses.
Tune in to learn more about how she sheds light on the imperative of staying informed, adapting to constant policy and technology changes, and the strategic development necessary to thrive and remain relevant in the ever-evolving government contracting arena.
Thriving Points:
Imposter syndrome is real. And it's like, as confident as we can be, there are going to be those moments where you doubt yourself.

– Jennifer Hanks

Even in your own business, there's going to be things that don't go as planned. And in that moment, we just had an attitude of we're doing this. –

Jennifer Hanks

You're writing proposals and all of those things. It's those things that just make you stronger, more resilient. And you just gain a new respect for yourself, your partner, and your team. –

Jennifer Hanks

I don't think a lot of us were prepared for  COVID and I think it just made us stronger and better and gave us a lot of lessons learned and best practices for going forward. –

Jennifer Hanks

If I'm going to go back to industry, I want to make sure that I can impact and improve some of those things and not just kind of keep things status quo.  –

Jennifer Hanks

I want to make sure that we are continuing to grow the workforce and produce great talent, so that we're getting exactly what we need because we all benefit from that as citizens. –

Jennifer Hanks

This is a life I never envisioned for myself.  And it doesn't come without its challenges, but I truly  appreciate the fact that some organization has entrusted us to help them grow, and they're helping us grow at the same time. –

Jennifer Hanks

Everything does not have to be a secret. Yes, we're going to compete, but we don't have to compete all the time on everything. Let's just support our fellow business owners and help them grow because our economy thrives off of small businesses, like they are the heartbeat of our economic engine.  –

Jennifer Hanks

FedPROPEL is all about expanding the ecosystem, helping to grow the defense industrial base and making sure that we're providing quality businesses back to the government that understand the rules of engagement. –

Jennifer Hanks

We always maintain our relationships to the greatest extent possible. Like, at the end of the day, we're all making business decisions and it doesn't make someone a good or bad person because it didn't work out. You just have to keep it moving and have that respect to say no.  –

Jennifer Hanks
Get to Know the Guest:
Jennifer Hanks, CFCM, NCMA Fellow, is a dedicated small business advocate and is the founder and Chief Executive Officer of MMC Consulting, LLC. MMC Consulting provides acquisition, program, and human capital management to federal and commercial clients with a commitment to delivering innovative solutions to challenges facing the federal government. Jennifer oversees the operations of MMC's commercial and federal practice with a portfolio that exceeds $1B in value.
As a former warranted contracting officer with the United States Agency for International Development (USAID), she obtained domestic and international contracting experience in Afghanistan, Guatemala, and Germany. She has also worked for several large federal contractors that gave her a complete understanding of the full buyer/seller experience and how to provide effective and creative solutions for clients. In addition to her responsibilities as CEO of MMC Consulting, Jennifer is also Co-Founder and Senior Advisor of The FedPROPEL Institute whose mission is to help 10,000 minority-led firms become elite federal contractors over the next decade.
Connect with Jennifer Hanks:
About the Show:
Women Thriving in Business features candid unscripted conversations with entrepreneurs, business experts, authors, and academics aimed at contributing to business success. This weekly show provides interviews with business leaders who have built, grown, and are thriving in business. Nikki A. Rogers, host of the show, also discusses achievements, lessons learned, and advice for aspiring business owners to develop the mindset, strategies, and connections necessary to thrive in business. Whether you are just starting or you have been in business for decades, WTiB offers inspiration, strategies, and resources to help you THRIVE in business.
About the Host:
Nikki is a strategist and transformation coach who believes life is too short not to do what you love. She is passionate about helping entrepreneurs build sustainable companies and supports business leaders in developing the mindset, strategy, and connections to create thriving businesses and build legacy wealth.
Nikki is the CEO of The Bladen Group and an alumna of North Carolina A&T State University and UNC-Chapel Hill.
Connect with Nikki: