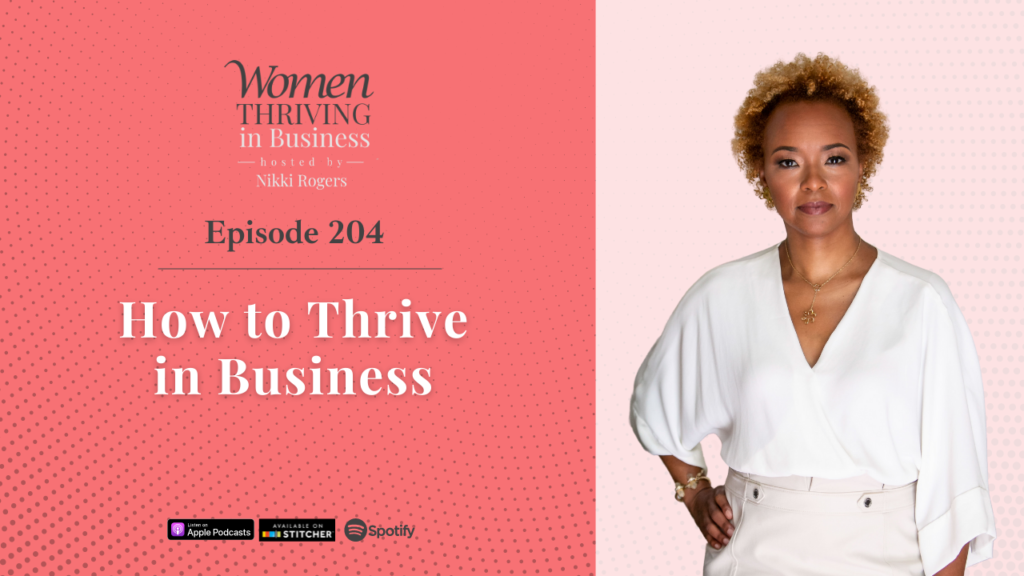 My mission in life is not merely to survive, but to thrive;
and to do so with some passion, some compassion, some humor, and some style.
 – Maya Angelou –
"Thriving is business" is a mindset and it's one that every entrepreneur can adopt within their business. This mindset will determine whether you are a business owner who is "barely making it" or one that achieves success.  One of my first business coaches shared her philosophy on marketing that has always stuck with me – she said, "I am looking for the client that is looking for me.  I don't chase, cajole, or convince anyone.  I am the answer to their problem." She didn't say it to brag or boast, however, that was the energy she brought to interactions with potential clients.   I have adopted that same approach in building my coaching business by offering solutions to my clients' biggest challenges, sharing resources, and connecting them to specialized advisors.
If you're an aspiring entrepreneur with the vision of excelling in your business, this episode is perfect for you. In this episode, I share three tips that are the basic building blocks for a sustainable business. My goal is to help and guide you in your journey as a thriving entrepreneur.
I believe that we all can flourish as long as we know how to lay the proper foundation to build a strong and stable business, including formalizing your business structure, establishing your values, and nurturing innovation.
Check out my complimentary Mind the G.A.P. Strategy Guide to pave your way towards a thriving business!
Thriving Points:
Thriving is about an abundance mindset that allows for the generosity of spirit and time.
To thrive means to grow, develop well or vigorously, and to prosper or flourish.
Determine the types of clients and the type of services or products that you will provide, ensure that what your business does aligns with your values and what you want to see in the world.
Make sure that the business that you have aligns with your values and cultivates a positive business reputation that will serve you well, going forward.
The path to a thriving business includes being open to learning, either from both formal and informal training, mentoring relationships, or collaborations and partnerships.
All of us can thrive.
I'm committed to helping you thrive in business through the information, interviews, and guidance that I provide on this podcast, as well as through my consulting and business coaching services that I provide to small businesses and individuals, entrepreneurs.
You need to open a business bank account, separate your business and your finances.
Continue to learn through action and experimentation because sometimes you don't know what you can do or what you can accomplish.
About the Show:
         Women Thriving in Business features candid unscripted conversations with entrepreneurs, business experts, authors, and academics aimed at contributing to business success. This weekly show provides interviews with business leaders who have built, grown, and are thriving in business. Nikki A. Rogers, host of the show, also discusses achievements, lessons learned, and advice for aspiring business owners to develop the mindset, strategies, and connections necessary to thrive in business. Whether you are just starting or you have been in business for decades, WTiB offers inspiration, strategies, and resources to help you THRIVE in business.
About the Host:
        Nikki is a strategist and transformation coach who believes life is too short not to do what you love. She is passionate about helping entrepreneurs build sustainable companies and supports business leaders in developing the mindset, strategy, and connections to create thriving businesses and build legacy wealth.
Nikki is the CEO of The Bladen Group and an alumna of North Carolina A&T State University and UNC-Chapel Hill.
Connect with Nikki:
Click HERE for the SHOW TRANSCRIPT.