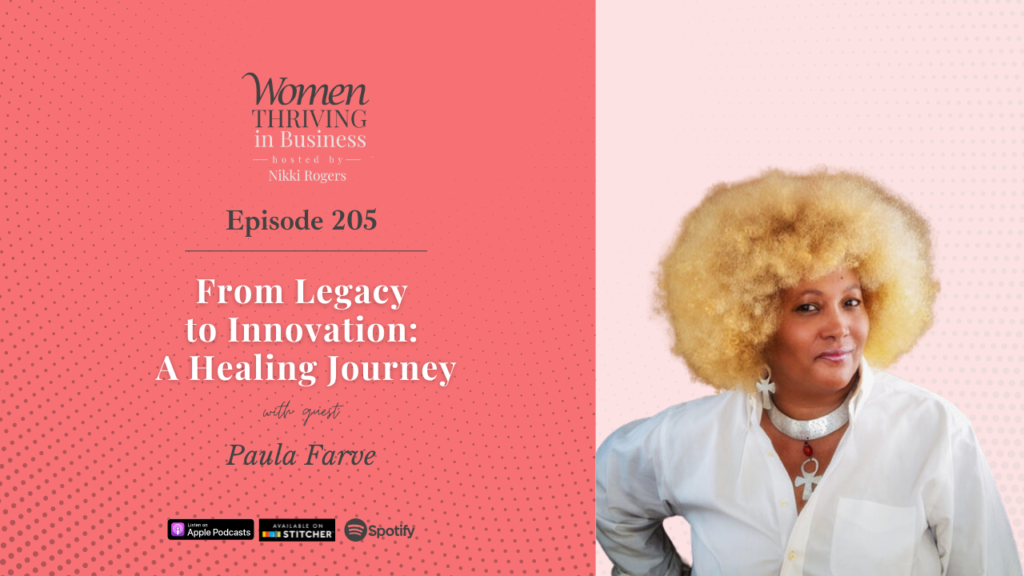 What legacy have you inherited from your family?  What knowledge or traditions have been passed down to you that could help you be healthier, live a better life, or create a business?
For some of us, the term "legacy" likely conjures up the idea of money, property, or other material objects.  If you dig a bit deeper, you'll likely remember words of wisdom and ways of being that connects your family across generations. Couple that legacy with your own life experiences and you will have a recipe for success.
My guest, Paula Farve, spent her childhood gardening and learning about herbs from her Native American father and grandmother. Little did she know that those teaching moments combined with her Army veteran discipline and drive would lead to her becoming the "Shea Queen". As the founder of Naturally for Me Shea Butter, LLC, Paula creates handmade, natural products for skin and hair.  She grows herbs and creates her infusions to ensure product quality and purity.
In this week's episode, Paula shares the inspiration for her business, some of the tough decisions and personal sacrifices she's made to create success, why mentorship and collaboration are essential to thriving in business. Listen in as she shares tips for aspiring women entrepreneurs.
Thriving Points:
There are so many different milestones in my business that changed the game but I felt like creating my own infusions changed the game for me.
Sometimes you can stand in your way, so you have to be open to learning.
I learned how to take constructive criticism and value collaboration.
You have to learn to put yourself out there especially when you're setting the example for yourself.
 A lot of people buy into your story and how you represent yourself.
I have a product that I believe in, I can stand by, and I have a passion to present.
You have to have someone positive in your corner who has a business sense, someone who can guide you, and someone that's not afraid to give you information.
Remember that your dream is your dream. They can't see your vision. Your vision has to be so far-fetched that they can't see it.
Passion comes with a purpose. Once you find your purpose, you'll never work another day in your life.
Get to Know the Guest:
        Paula Farve, also known as the "Shea Queen", is a mother of two and grandmother of three. She is the CEO/Founder of Naturally for Me Shea Butter, LLC, Army Veteran, and Minority-Owned (Native and African American.) Known as The Real Shea Queen, Paula developed a formula to treat her son's eczema while gaining financial freedom after her long-term marriage ended in divorce. She has successfully become an herbalist to master her craft and developed a line of handmade, all-natural products for skin and hair.
Paula holds wholesale contracts globally for her business and has mentored her peers to overcome obstacles to become successful entrepreneurs. She has been interviewed by Black Wall Street Radio Podcast and The Empowerment Advocate, Dr. Yolanda Jerry, in Using Your Pain Gain. She is an up-and-coming author with Black Author's Rock Publishing Company. Paula served as an Ambassador for Success Woman's Conference and Keynote Speaker for Comeback Champion Summit and Black CEO Icon. Her goal is to empower other women that are starting over to know that there is no age limit in obtaining their dreams.
Connect with Paula:
Click HERE for the SHOW TRANSCRIPT.