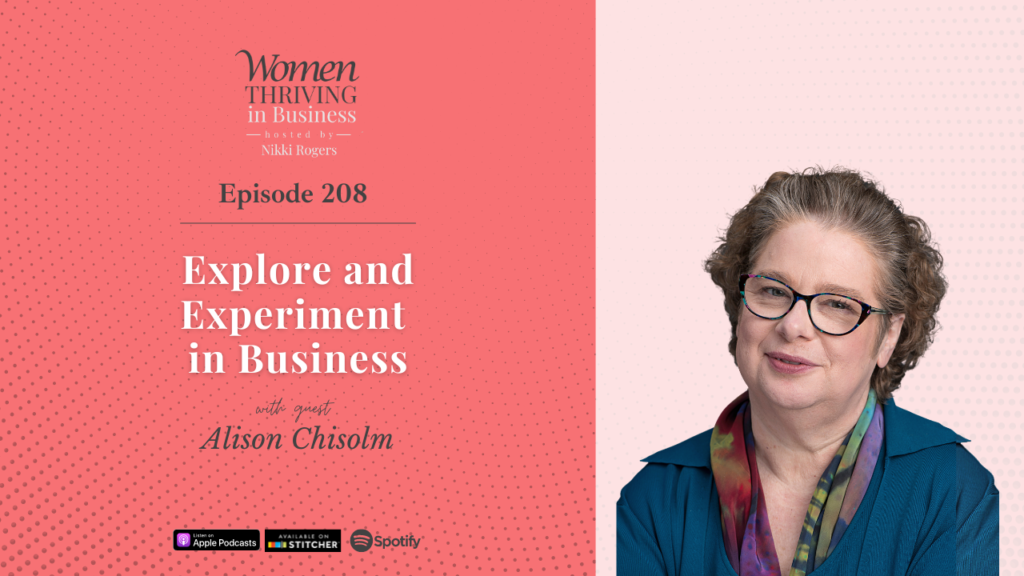 Life circumstances are always changing and there are times in life when you have the opportunity to take a leap, explore your interests, and experiment in business. When getting started, you should consider factors like expertise, competitors, demand, costs, and pricing. Questions to ask yourself include: What am I great at doing? How do I choose a business model? How can a business partner support success? 
In this episode, Alison Chisolm, a multi-passionate and multifaceted business owner, shares how she reinvented herself, and how experimenting with the type of business contributed to finding the perfect one for her. We also discuss how a business partner can help you develop and succeed, and why it's important to understand your beliefs and risk tolerance in order to be aligned in your business.
She brings us along her journey on what helped her start and find business success, gave tips to build and scale your business using your competitors as teachers, and put boundaries around your work.
If you're an aspiring business owner who's unsure of your true passion and don't know where to start, Alison's various business experiences and passion for helping women achieve their dreams will truly motivate you.
Thriving Points:
You have to be a little bit risk-preferring to be a successful entrepreneur.
The most important thing is that we share values about how to run a business and what we're in it for. We are very open about how much money we each need to make.
Be ruthless about the financials, particularly about the value of your time.
If you can step away, feed the other parts of your life, and put boundaries around your work. You will ultimately be more successful and more productive.
There is potential in every person and I help them reveal that potential.
Get to Know the Guest:
        Alison Chisolm is the co-founder of the Inline app, Head of College Counseling for Ivy College  Consulting, and is the coordinator for the Entrepreneurship and Innovation Program at River Valley Community College.  Her professional career has taken her from law practice into higher and secondary education, social services, and entrepreneurship. She helps women author their own stories and achieve their dreams.
Connect with Alison:
Click HERE for the SHOW TRANSCRIPT.