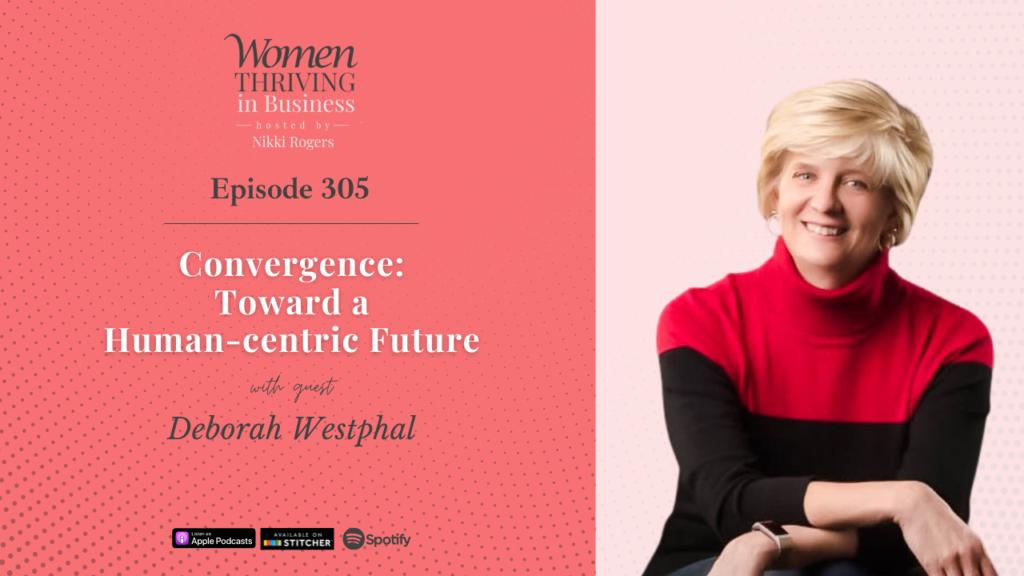 Change is an unavoidable fact of life and we get to choose whether to accept or resist it.
Organizations that can leverage technological innovations while effectively managing workplace dynamics have a competitive advantage. It is equally important to have organizational leaders who are committed to building a culture where everyone feels supported, and employees' initiative, uniqueness, and enthusiasm are appreciated.
Join us in Episode 305, with guest Deborah Westphal, a business leader, consultant, and author as she shares her perspectives on an evolving leadership approach that views employees as individuals who deserve respect, power, and trust. Questions like: "What IS a humanist and what does human-centric leadership look like?", "Why should organizations become more human-centric?", "What does the 'race to space' mean for the rest of us?" will be answered.
Listen in as Nikki and Deborah discuss how you can align your professional and your personal life, and the tools, tactics, and techniques that you can use to embrace new leadership roles, and how Deborah built her career through global travel and industry exploration.
Thriving Points:
The core of humanity is hopes, dreams, fears, and concerns that people have no matter where you live, your culture, or your experiences.
To be a humanist is to be an advocate for people and realize that because it's an energy that can be tapped into so many different things.
Growth is scary, any kind of new experience is scary, but what you rely on is,  you know you've done this before.
Get to Know the Guest:
        Deborah Westphal is a business leader in future-focused strategy, consultant, and author of the book "Convergence: Technology, Business, and the Human-Centric Future". In Convergence, she leverages more than 30 years of experience helping the world's most innovative business and government leaders to challenge biases, ignite ideas, and build connections. She delivers this rich insight with an empathetic and thought-provoking writing style to chart a path for readers.
Throughout the book, personal stories and historical examples highlight convergences that span the globe, impacting everything from global supply chains to climate change, and reshaping the future of business, technology, and humanity everywhere.
Connect with Deborah:
Click HERE for the SHOW TRANSCRIPT.