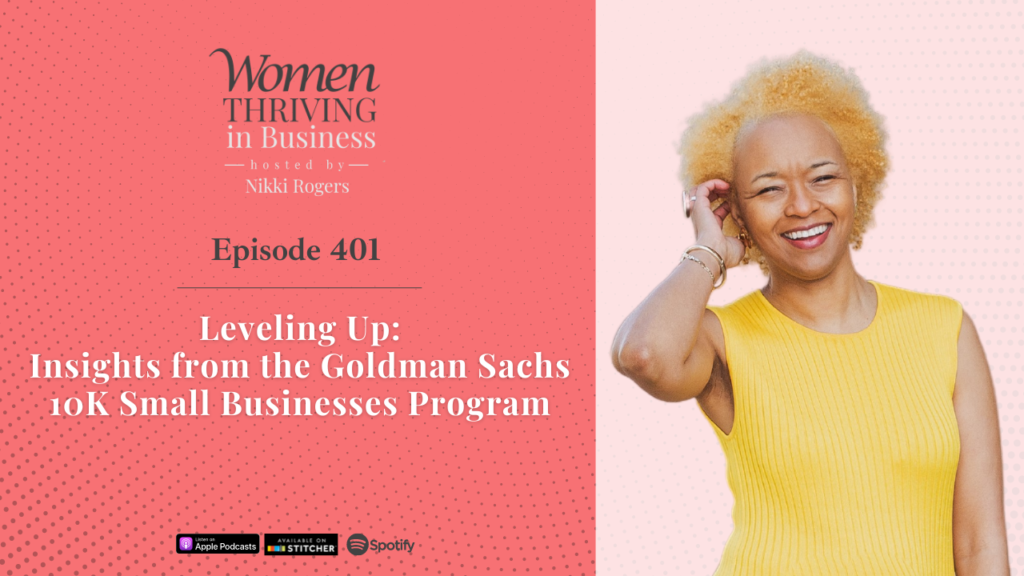 My vision for season 4 is to bring you great guests
who will inspire and motivate you to thrive in business.
– Nikki Rogers
Welcome to season 4 of the Women Thriving in Business podcast! I appreciate all of you for rocking with me over the last 3 seasons. And if you are a new listener – thanks for joining the WTiB family.
The Bladen Group is leveling up! I've learned so much from my clients, business partners, and coaches over the past 3 years that have helped the business mature and me grow into my role as a business owner. And there's still a lifetime of lessons left to learn! That's why I'm excited to be a part of the Goldman Sachs 10,000 Small Businesses (GS10KSB) program. GS10KSB is focused on business growth and as a result, I have spent the last few weeks working ON my business vs IN my business. I started with setting personal and professional goals, identifying a growth opportunity, and digging deep into financial analysis. Spending time focused on financial statements and key metrics has been a game-changer in determining the health of my business. The most difficult challenge has been forecasting future revenue. First of all,  I have some ambitious goals, and when I started mapping out my 5-year plan, I felt like I was trying to climb Mt Everest! As I refined the projections and began developing a strategic approach, the goals started to seem more feasible. It's going to take a lot of hard work to get to where I want to go and this is why a positive and abundance mindset is critical for success. I have to believe success is possible, envision and plan for success, and then execute every day. Even when it's hard and I don't feel like it!
In all seriousness, I am more energized than ever to grow the Bladen Group, work with great clients and impact the world of business, one organization, one entrepreneur at a time.
One way to do that is to bring you great content and guests on this podcast, so I'm excited to kick off season 4 – I'm bringing you some fabulous guests that will help you "thrive in business". Check out episode 401 to learn more about my insights from the last few weeks and to get a sneak peek of future guests.
Thriving Points:
It took a lot of confidence and a bit of prayer to start mapping out what each year needs to look like. In order for me to hit my five-year goals, I had to craft assumptions, about the economic and political environment that I thought would actually support me being able to hit those goals.
A key piece of this was not only thinking about these folks as competitors but also as potential partners or collaborators.
I had to become intimately familiar with my current balance sheet, my income statement, and my statement of cash flows to better understand the current state of my business and compare that to where I want to be.
When we understand our leadership style and understand the leadership style of others,  we can adjust. And not necessarily change who we are, but it's about understanding where someone else is coming from and they understand where you're coming from
It's a best practice to periodically review your mission and vision.
Other resources mentioned:
About the Show:
Women Thriving in Business features candid unscripted conversations with entrepreneurs, business experts, authors, and academics aimed at contributing to business success. This weekly show provides interviews with business leaders who have built, grown, and are thriving in business. Nikki A. Rogers, host of the show, also discusses achievements, lessons learned, and advice for aspiring business owners to develop the mindset, strategies, and connections necessary to thrive in business. Whether you are just starting or you have been in business for decades, WTiB offers inspiration, strategies, and resources to help you THRIVE in business.
About the Host:
Nikki is a strategist and transformation coach who believes life is too short not to do what you love. She is passionate about helping entrepreneurs build sustainable companies and supports business leaders in developing the mindset, strategy, and connections to create thriving businesses and build legacy wealth.
Nikki is the CEO of The Bladen Group and an alumna of North Carolina A&T State University and UNC-Chapel Hill.
Connect with Nikki:
Click HERE for the SHOW TRANSCRIPT.