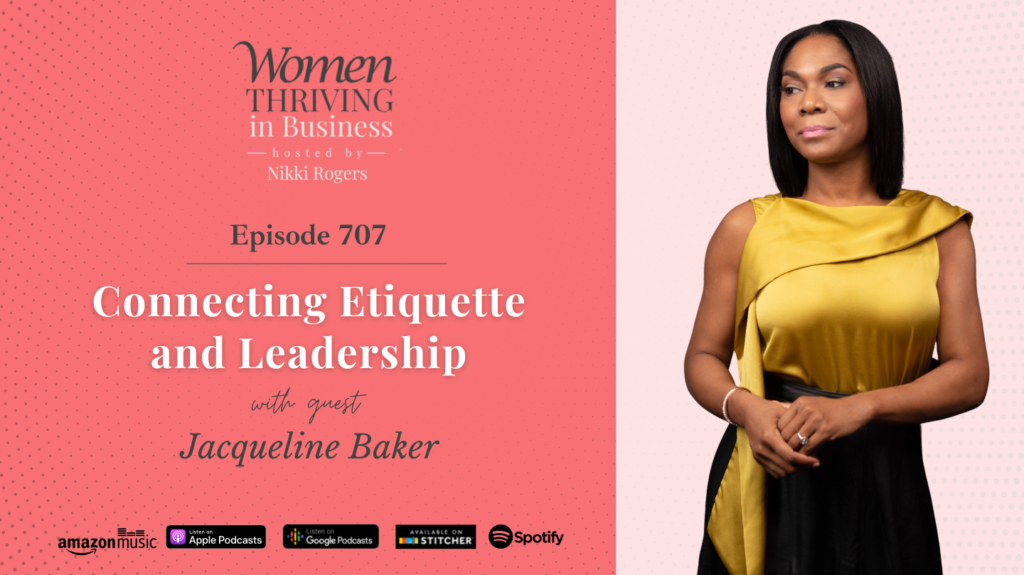 When we hear the word etiquette, what comes to mind? What emotions are evoked? Is it inspiring? Or is it stifling? Do you look forward to situations that require etiquette or do you avoid them because you're anxious about an embarrassing "breach" in etiquette? The truth is, you are practicing etiquette every day as you go about your daily activities. 
This week's episode sheds light on how etiquette, or having an accepted code of behavior for particular situations is a great foundation for enhancing a person's leadership skills. Jacqueline Baker, speaker, author, and founder of Scarlet, helps debunk some of the myths that surround etiquette and shares how modern etiquette, protocol, and leadership can harmonize to bring out the best in each person.
Jacqueline insightfully notes that there are 7.7 billion people in the world and we will be a better workforce and build better communities if and when we figure out a common way to operate together.
Listen to this episode to learn more about the connection between etiquette and leadership.
Thriving Points:
Mentioned on the Show:
Get to Know the Guest:
Jacqueline M. Baker is a speaker, author, leadership consultant, and advisor known for her unique approach to modern etiquette and leadership. As the author of Leader By Mistake and The Unexpected Leader: Discovering The Leader Within You, she frequently speaks and writes on the leadership-for-all concept. Her inspiration and expertise come from more than a decade as the founder and principal consultant for Scarlet, a consultancy that provides leadership training to Fortune 500 companies, small businesses, community organizations, and individuals across the globe. She also leverages her experience serving in a number of corporate board and community service roles.
An avid dinner-party hostess, Jacqueline creates space and opportunities to gather groups for compelling conversation, delicious cuisine, and untraditional ways for continued leadership development. She is also the host of the podcast, Just StartTM: From Ideas To Action.
Connect with Jacqueline :
About the Show:
Women Thriving in Business features candid unscripted conversations with entrepreneurs, business experts, authors, and academics aimed at contributing to business success. This weekly show provides interviews with business leaders who have built, grown, and are thriving in business. Nikki A. Rogers, host of the show, also discusses achievements, lessons learned, and advice for aspiring business owners to develop the mindset, strategies, and connections necessary to thrive in business. Whether you are just starting or you have been in business for decades, WTiB offers inspiration, strategies, and resources to help you THRIVE in business.
About the Host:
Nikki is a strategist and transformation coach who believes life is too short not to do what you love. She is passionate about helping entrepreneurs build sustainable companies and supports business leaders in developing the mindset, strategy, and connections to create thriving businesses and build legacy wealth.
Nikki is the CEO of The Bladen Group and an alumna of North Carolina A&T State University and UNC-Chapel Hill.
Connect with Nikki: