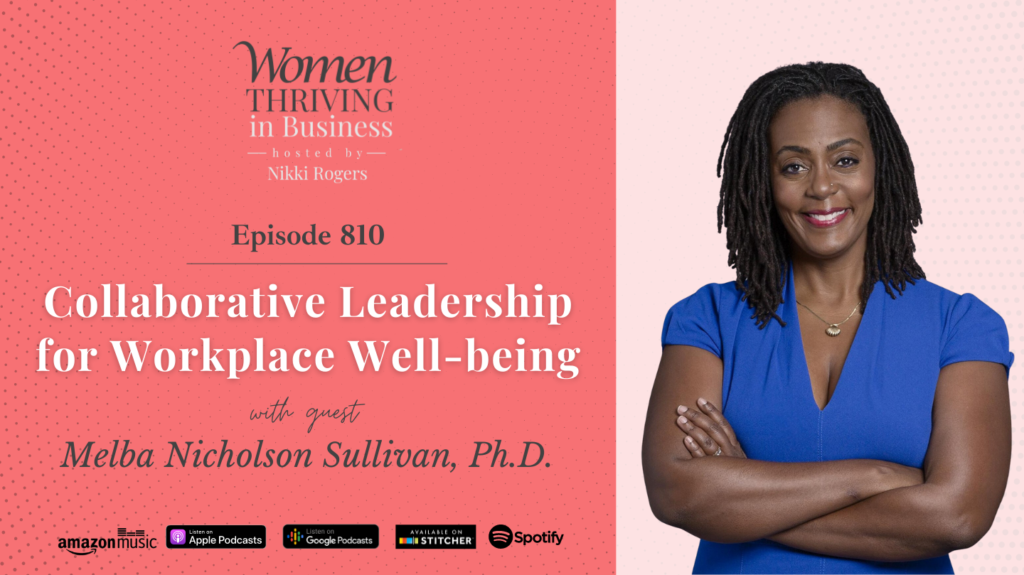 Studies tell us that on average, humans spend more than 30% of their lives at work. 
Given that work is such a significant aspect of our lives, it is important that we work in an environment where we feel valued and appreciated. 
But how can we ensure that we work in a healthy environment where we can thrive? 
In episode 810, we discuss this topic with our guest, Dr. Melba Nicholson Sullivan, CEO of Freedom Flow Solutions. Melba believes that creating a culture where individuals feel seen and heard is the first step toward achieving a healthy work environment. With her clinical psychology background and passion for the performing arts, she customizes a solution based on each organization's unique challenges, recognizing that different industries require different approaches.
If you want to find out more about Dr. Sullivan's distinctive approach to a sustainable workplace, tune in to this episode!
Thriving Points:
Avoidance is one of the key ways that we navigate trauma. – Melba Nicholson Sullivan, Ph.D.

We're very committed to creating a space for wisdom that sits in every seat. – Melba Nicholson Sullivan, Ph.D.

I thought because I was a licensed clinical psychologist that I should go into private practice, even though what I had evolved to really enjoy was training and facilitating. – Melba Nicholson Sullivan, Ph.D.

When I'm working with somebody individually, I'm working with them to navigate the impact of a work environment that needs to change. When I'm working with the organization as the client, I'm changing the context in which that individual is working. – Melba Nicholson Sullivan, Ph.D.

There's a greater impact if you do something even at the smallest level with your supervisors, managers, or your leaders or even look at your work policies. – Melba Nicholson Sullivan, Ph.D.

These organizational-level dilemmas are around how we create a workplace where people want to come. Even if they don't like each other, they're able to work with each other in a way. It shifts what they are offering and how it gets offered. – Melba Nicholson Sullivan, Ph.D.
Get to Know the Guest:
Dr. Melba Nicholson Sullivan is a licensed clinical community psychologist, Executive Coach, and vocalist. She uses theater arts, contemplative practice, and body-based approaches to navigate systemic oppression while promoting resilience and liberation. Melba grew up as one of 3 Black children in her graduating class of 300 in Deerfield, IL. She earned her BS in Psychology from Howard University and her Ph.D. from the University of Illinois at Urbana-Champaign. She completed postdoctoral studies in child and family trauma and social policy at Duke University, as well as global mental health at Harvard Medical School/Istituto Superiore di Sanità. Prior to creating her own companies, Melba worked for more than 20 years in nonprofit leadership and as clinical faculty at Northwestern University, Bellevue Hospital Center, NYU School of Medicine, and Ackerman Institute for the Family. She created a university counseling center at the American University of Nigeria, in Yola, Nigeria. She lives with her family in Brooklyn, NY.
Connect with Melba Nicholson Sullivan, Ph.D.:
About the Show:
Women Thriving in Business features candid unscripted conversations with entrepreneurs, business experts, authors, and academics aimed at contributing to business success. This weekly show provides interviews with business leaders who have built, grown, and are thriving in business. Nikki A. Rogers, host of the show, also discusses achievements, lessons learned, and advice for aspiring business owners to develop the mindset, strategies, and connections necessary to thrive in business. Whether you are just starting or you have been in business for decades, WTiB offers inspiration, strategies, and resources to help you THRIVE in business.
About the Host:
Nikki is a strategist and transformation coach who believes life is too short not to do what you love. She is passionate about helping entrepreneurs build sustainable companies and supports business leaders in developing the mindset, strategy, and connections to create thriving businesses and build legacy wealth.
Nikki is the CEO of The Bladen Group and an alumna of North Carolina A&T State University and UNC-Chapel Hill.
Connect with Nikki: