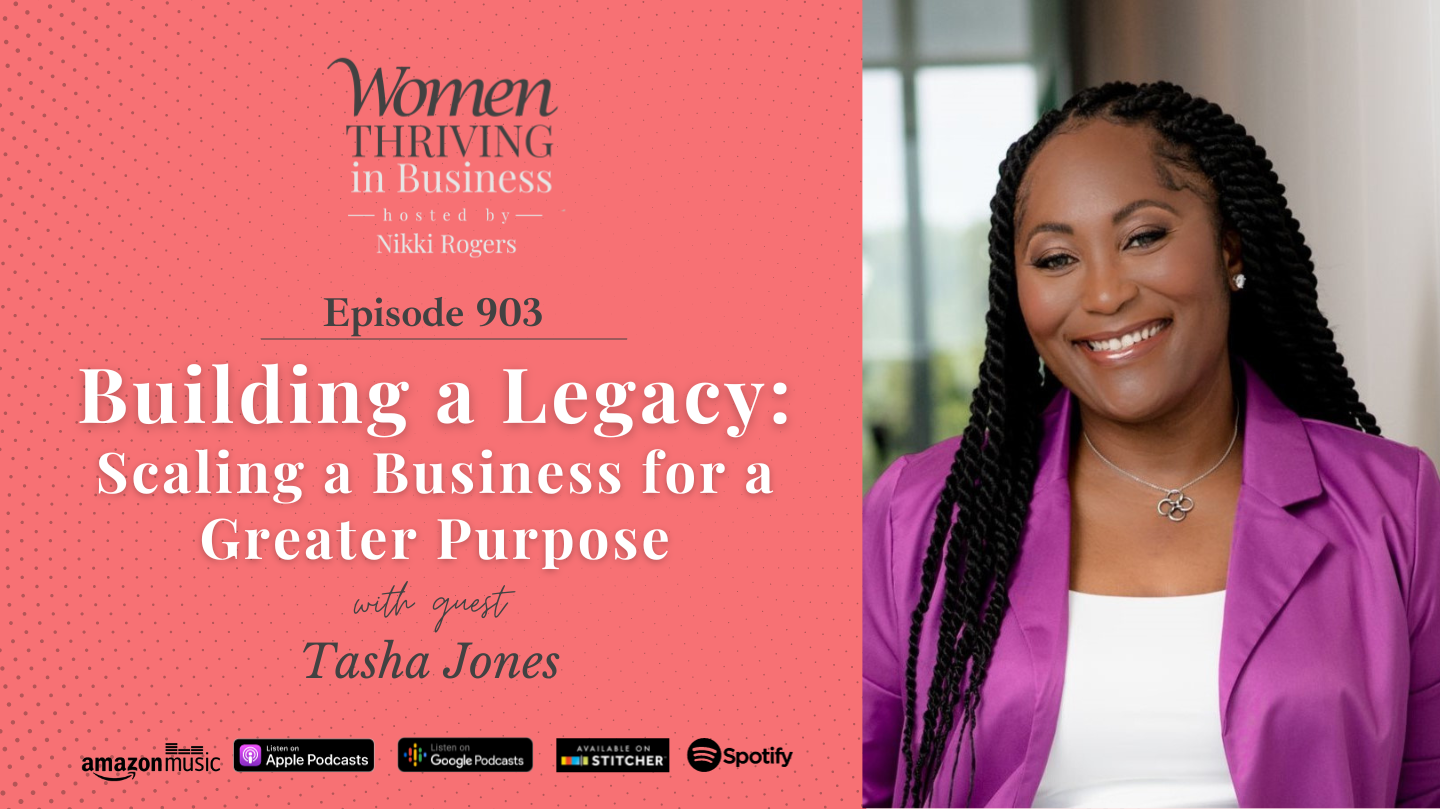 Revamping your career is no small feat; it requires strategic thinking and unwavering determination. In a journey marked by calculated risks and meticulous planning, Tasha Jones serves as a role model for transforming apprehension into achievements. She isn't just building a business; she's crafting her legacy through an intentional approach to achieve her envisioned future.
After dedicating more than two decades to government consulting following her service in the US Navy, Tasha made a defining choice to seize control of her career and embark on an independent professional path. This bold decision unearthed a profound purpose: her overarching mission is to create an investment fund by the year 2039 that will provide capital support to businesses and communities.
Tasha's insights on planning, establishing robust support systems, and exploring the unknown will inspire you to reassess your own career journey.
Don't miss out on this episode; prepare to be captivated by Tasha's compelling story.
Thriving Points:
Having that consistent support structure, planning in advance, and having alternative options for the things that are very important ensure that I'm not taking too much high risk when I transition careers.

– Tasha Jones
Sometimes we glamorize what we don't know, but talking to people who are in those roles helps a lot. – Tasha Jones
Don't be afraid to put yourself out there to ask and show that you're still curious and you're trying to learn. – Tasha Jones

It's a different kind of grind, with all the regulations, it's not enough to just win contracts

—

 you have to build infrastructure. – Tasha Jones
I always had systems and processes and things in place. If I made the decision to grow, I wanted to have things in place for that so I did put those in place upfront. – Tasha Jones
I'm glad I had the confidence to try and grow a business because it's helping me to see some things that I didn't even realize I had already been exposed to. – Tasha Jones
Since I want to create a product that makes services more accessible at a broader scale for businesses that don't have the revenue, I need to do it smartly so it doesn't break me financially. – Tasha Jones
I try to make sure that the organizations that I am a part of are aligned with what I'm trying to do, and who I am. – Tasha Jones
I always try to ensure that I'm engaged in the industry organizations that tend to yield the best results versus just being a member. – Tasha Jones
Do your homework. For new entrants that are coming in, don't pay for stuff, you don't have to. – Tasha Jones
Get to Know the Guest:
Tasha Jones is a U.S. Navy Veteran and Founder of Twenty39, a data-focused professional services firm leveraging over twenty years of experience primarily in the U.S. Federal, Defense and Intelligence market space. From scaling multi-million-dollar, functionally diverse global portfolios to spearheading multiple high-visibility project turnaround efforts for major IT systems and processes at the US Department of Justice, Ms. Jones is an industry-recognized leader in developing data-informed solutions, turning around "off the rail" projects and "just getting the job done!"
Tasha founded and co-hosts Unveiled: GovCon Stories podcast – to spotlight the true experiences and learned lessons from small business founders in government contracting; and is a Citrine Angels board member, a DC-based angel group of women investing in women.
Connect with Tasha Jones:
Other resources mentioned:
About the Show:
Women Thriving in Business features candid unscripted conversations with entrepreneurs, business experts, authors, and academics aimed at contributing to business success. This weekly show provides interviews with business leaders who have built, grown, and are thriving in business. Nikki A. Rogers, host of the show, also discusses achievements, lessons learned, and advice for aspiring business owners to develop the mindset, strategies, and connections necessary to thrive in business. Whether you are just starting or you have been in business for decades, WTiB offers inspiration, strategies, and resources to help you THRIVE in business.
About the Host:
Nikki is a strategist and transformation coach who believes life is too short not to do what you love. She is passionate about helping entrepreneurs build sustainable companies and supports business leaders in developing the mindset, strategy, and connections to create thriving businesses and build legacy wealth.
Nikki is the CEO of The Bladen Group and an alumna of North Carolina A&T State University and UNC-Chapel Hill.
Connect with Nikki: